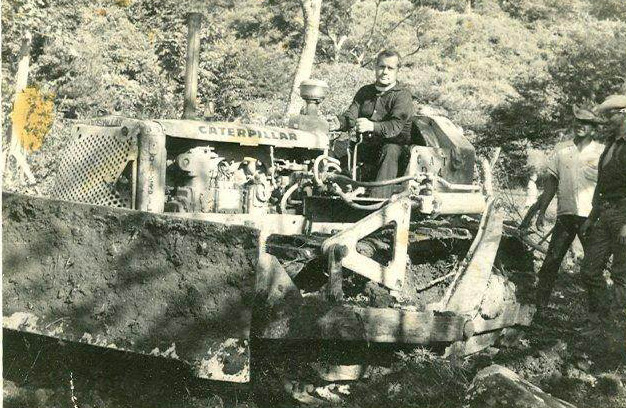 Father Fabretto
driving 'baby' in the 1960s – a gift from the government – which he used to clear the road to Cusmapa.
Father Fabretto's philosophy was to give a home and hope to underserved children, many of whom had been abandoned, abused, or orphaned. His organization grew to include five Oratorios in the Managua area and the northern highlands. These Oratorios offered a home, meals, counseling and both religious and academic education. For more than four decades, Father Fabretto sustained the Oratorios despite many adversities, including devastating earthquakes, severe hurricanes, and the devastating civil war of the 1980s. Despite a lack of financial resources, as well as the nation's uncertain social, political and economic climate, Father Fabretto managed to obtain local resources of food, clothing and educational supplies, to maintain his "Familia" (family) of several hundred children, in five different Oratorios.
In March 1990, as peace came to Nicaragua, the "Familia Fabretto" suffered its greatest blow: Father Fabretto passed away unexpectedly, at the age of 70. Upon his death, the organization was left in a state of limbo; the future of Fabretto's Oratorios – and that of the children it served – was uncertain.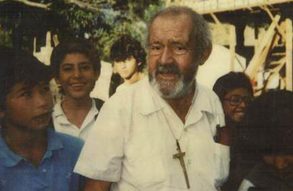 Father Fabretto
with children from
one of the Oratorios
in the 1980s.
Father Fabretto's Legacy Continues
After his untimely passing in 1990, Kevin Marinacci, then a volunteer, established a nonprofit organization to continue his legacy of service. From 1993 to 2021, Fabretto's work grew from humbly serving 300 children to reaching over 60,000 children and youth through education and development programs in Nicaragua.
With your ongoing support Fabretto will continue to create change, fulfilling Father Fabretto's legacy of empowering children and youth to reach their full potential.