Hello! My name is Mariela Del Carmen Hernández Reyes. I was born in Sapoa Cárdenas, Rivas, Nicaragua. Currently, I live in Somoto, a town part of Madriz, a city in the north of Nicaragua.
My family is made up of 4 members. My dad, Mario, who works as a custodian; my mother, Santos Seledonia as a housewife; my older brothers, Santos Isnoel as a farmer and Bismarck de Jesús; my younger brother, Héctor Antonio, who is in his third year of secondary education; and finally me, the only female sister.
When I was 4 years old, I started preschool at the "Oratorio Mamá Margarita" in Somoto. In 2004, I graduated being sponsored by the Comparte Foundation program. For the following 4 years, I attended elementary school and got involved in educational reinforcement, crafts, sports, and English. In 2011, I started high school and continued attending the center, receiving vocational training and computer classes.
Upon graduating from high school in 2016, because of my grades and perseverance at the center, I was considered for a university scholarship. I started a professional training stage from which I chose the Business Administration career at the UNAN Managua University, Farem Estelí. During that time, I stood out as a good student.
Throughout my career, I continued to attend the Mamá Margarita center to do my volunteer hours supporting the primary education program in the development of teaching materials and strategies for the classroom and assistance. I joined the monitoring area collaborating with the attendance registration, the delivery of food and other materials in the schools of benefited communities. I also supported the development of parent schools and preventive health talks. Furthermore, I had the opportunity to belong to the administration area and during that time I acquired the administrative experience that allowed me to develop professionally.
The support provided by Fabretto and my scholarship sponsors, Tin Roof, contributed to the completion of my degree.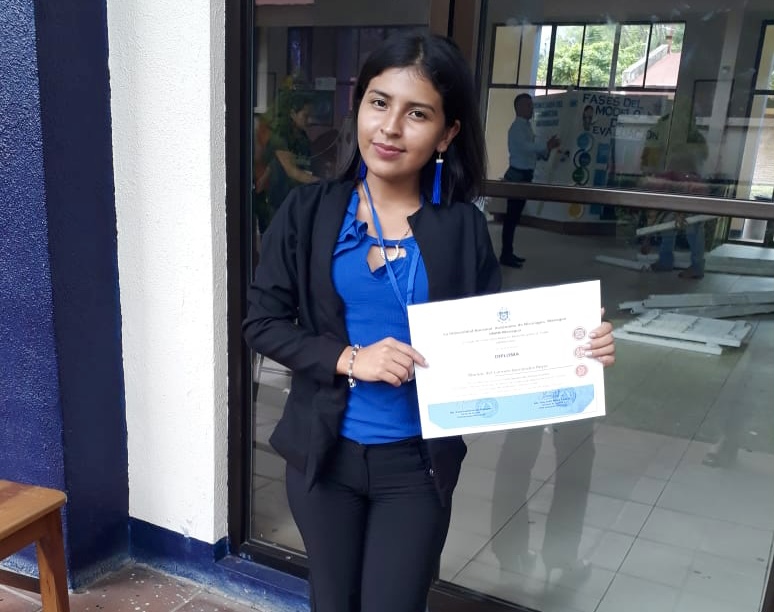 I like to be in constant learning and for this reason, in 2019, I started the microcomputer operator course and the following year the Swisscontact artisan food processing course.
I'm grateful for all the growth opportunities Fabretto provides to young people with professional and intellectual aspirations. All this has strengthened my experience to be considered professionally for a position according to my studies and I feel satisfied because I'm going to develop in what I am passionate about.