In the community of La Cruz, Estelí, there lives a 12-year-old girl with piercing eyes and a beautiful shy smile, a smile that almost completely hides the pain in her eyes. Her name is Delmin and this is her story.
Originally born in Honduras, 3 years ago, Delmin, along with her Nicaraguan mother, Masiel, and her three younger brothers, José Ariel, Antony, and David, moved to Estelí. At first, the single mom did not have a job and the family was homeless for some time. However, with the support of a community member, they were able to move to a simple home in the vicinity of the Fabretto school in La Cruz, where Delmin began attending school.
At 9 years old, Delmin had received little schooling in Honduras and she had a hard time adjusting to the new curriculum in Nicaragua. She felt insecure and retreated into her shell as she struggled with school and making friends. However, with the committed support of her enrichment teacher, she quickly caught up and began to feel more confident and joyful. Delmin was also recently assigned a child sponsor, which has motivated her greatly during this difficult year.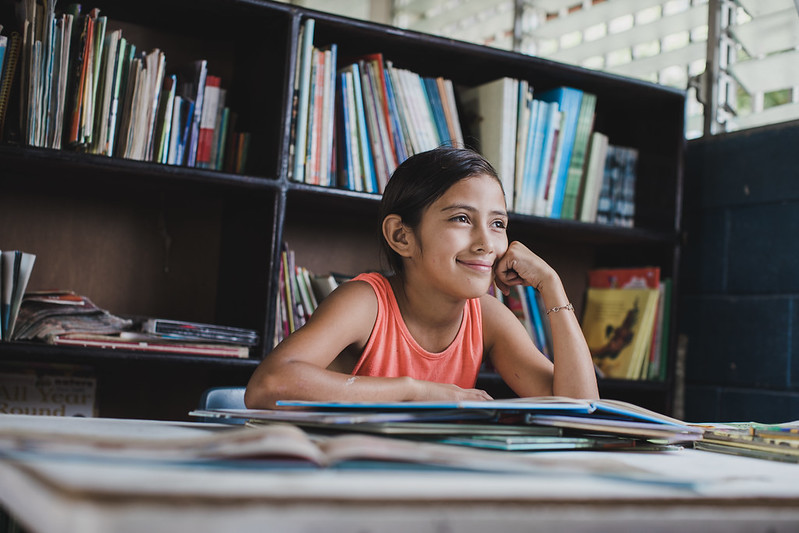 Three years later, Delmin has made more friends, has grown to love math, and continues to blossom through participating in her school's Litclub. The club has taught her the joy of reading and the power of serving others through reading out loud. Delmin and her friends frequently read to the younger children in their school as a way to promote leadership and service. "Most of the time, they pay attention but when they don't, I tell them that it's important for them to focus so that they will learn," shares Delmin with a sweet smile. The young girl also enjoys checking out books from the school library and reading to her brothers and her mother at home.
In the community of La Cruz, children like Delmin rely heavily on the daily meal served in the Fabretto school. 2020 heightened the risk of malnutrition for these children, but with the support of people like you, we were able to deliver food packages to continue to meet this great need. "This year, we received food packages when COVID-19 was hitting hardest in Nicaragua. This was a great help because my work as a maid became more limited as people closed the doors of their homes to outsiders as a safety measure," says Masiel.
The global pandemic and two major hurricanes have created conditions that could continue to greatly affect Delmin, her brothers, and many more children. Now, more than ever, we need your support to continue to bring them joy through education and nutrition.