Luz Danelia Núñez, Reyna Isabel Vallecillo and Yadira Ortiz, are three of the 26 women who make up the Nueva Luz Women's Cooperative located in the Pedro Altamirano community in the municipality of El Viejo, Chinandega. They not only work the land and manage the finances, they have also become a reference for other producers in the area. When a plague attacks the crops or they have doubts about the amount and type of fertilizer they should apply, the women are there to provide the best guidance.
Becoming a solid cooperative that is now a benchmark for other producers was not easy. The women started working together in 2002 but two years later, due to several drawbacks, they discontinued working together. It was until 2008 that Luz Danelia, Reyna and Yadira, along with six other women, resolved to begin a deep restructuring of the cooperative, with different statutes and a focus on gender equality and opportunities, as well as fluid communication so that the members were kept informed of the existing capital, credit availability and capacity-building activities.
That same year, the cooperative began with a fund of US$ 12,140 and from that moment on, revenue continued to increase; even more so beginning in 2016, when the cooperative begann to receive support from Nourishing the Future project, a global alliance between Care and Cargill and locally implemented by Fabretto Children's Foundation. By the end of 2019, the cooperative managed to close with a solid fund of US$ 19,000.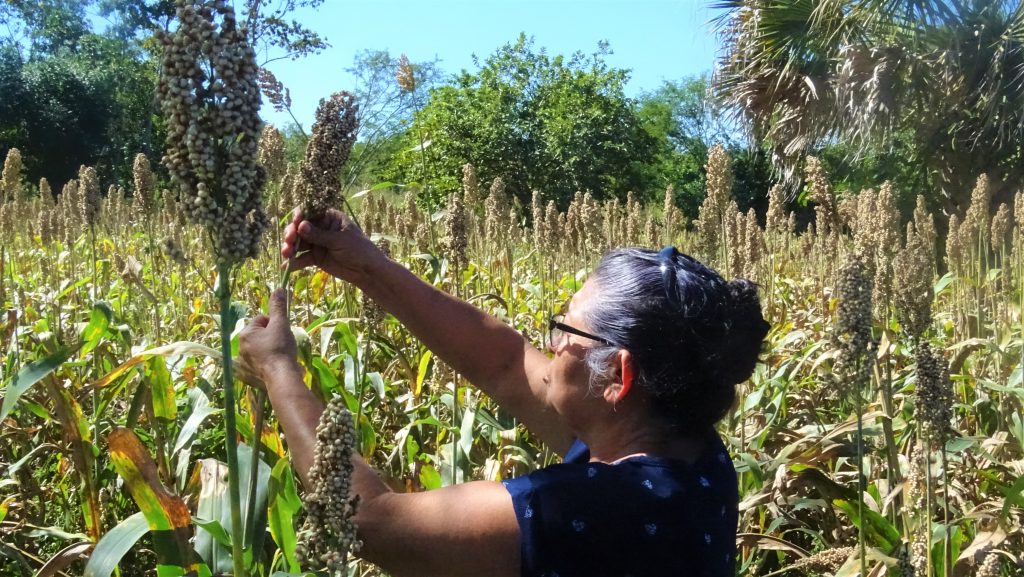 The project technicians helped them adapt techniques to improve the quality of the soil for sorghum cultivation, establish a marketing channel directly with Cargill to obtain better prices than in the local market, and combat plagues such as the yellow aphid with environmentally-friendly solutions.
"Improving the quality of the soil is, from my point of view, our main achievement. Instead of having to start from scratch every year, which is what happens when you use chemicals, we were able to start with a better and more productive soil.," says Reyna, laughing, adding that she already feels like a technician with everything she has learned through the Nourishing the Future project.
For the women, their experience in adopting new productive technologies has gained them an excellent reputation and respect in the community and with their partners, who at first thought that the training workshops were a waste of time and now recognize that they have learned more about agriculture.
"Our husbands know that we are knowledgeable and in the community, people now come to us for advice on how to deal with plagues and improve their soil. We have achieved all this thanks to the project," says Yadira Ortiz.