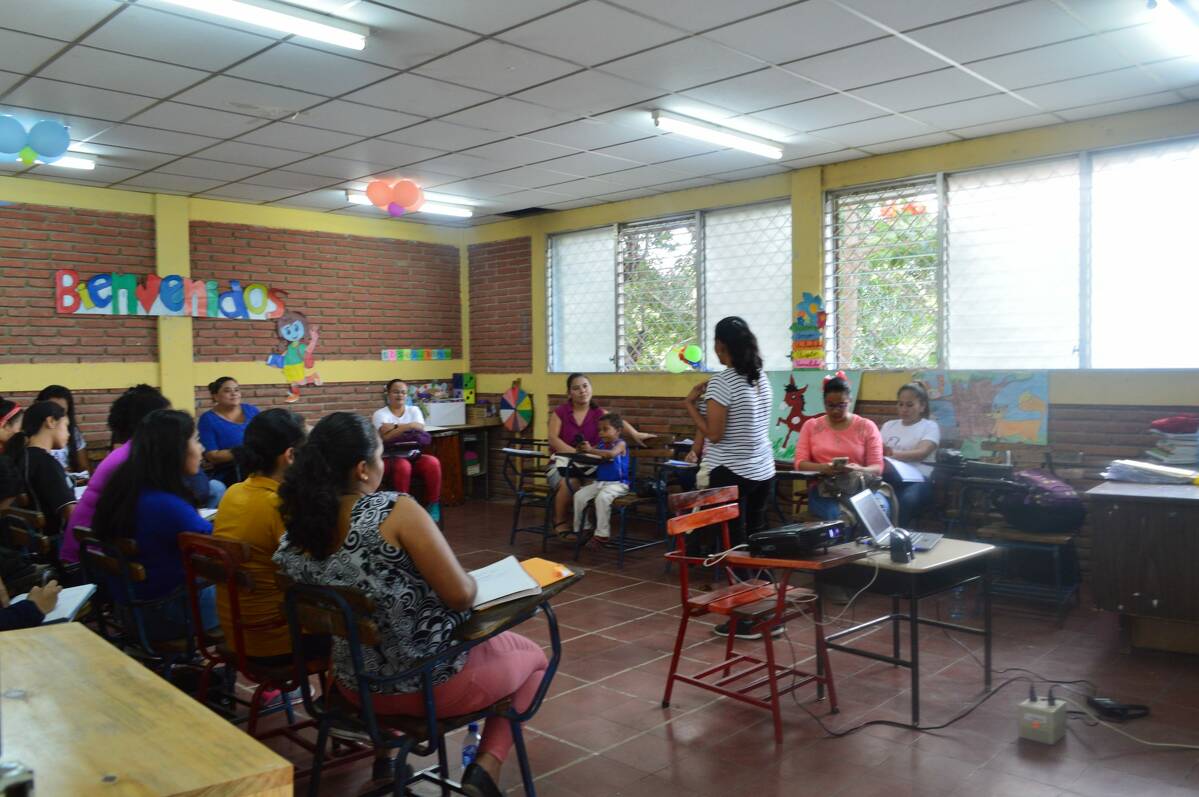 Using Fabretto's innovative "learning by doing" and "learning by earning" method, a basic cooking course is being held at the Maria Auxiliadora education center, located in the department of Estelí, in partnership with Swisscontact. The Canva model, a tool to define and create innovative business models, focusing in four major areas: customers, supply, infrastructure and economic viability, is also being implemented in parallel.
The course aims to empower the young mothers of children studying at the María Auxiliadora center so that they can have the option of establishing their food ventures. As part of the curriculim, the women are taught to prepare typical Nicaraguan dishes, desserts, and other culinary delights.
Today's class begins with an entrepreneurial workshop in which participants are presented with a video encouraging them to leave their comfort zone to strive for what they want and to fulfill their dreams. Then they are asked to group together, brainstorm ideas about an innovative business, whether it be a restaurant, a cafeteria, or a buffet, and get their ideas down on paper before sharing them with the rest of the class.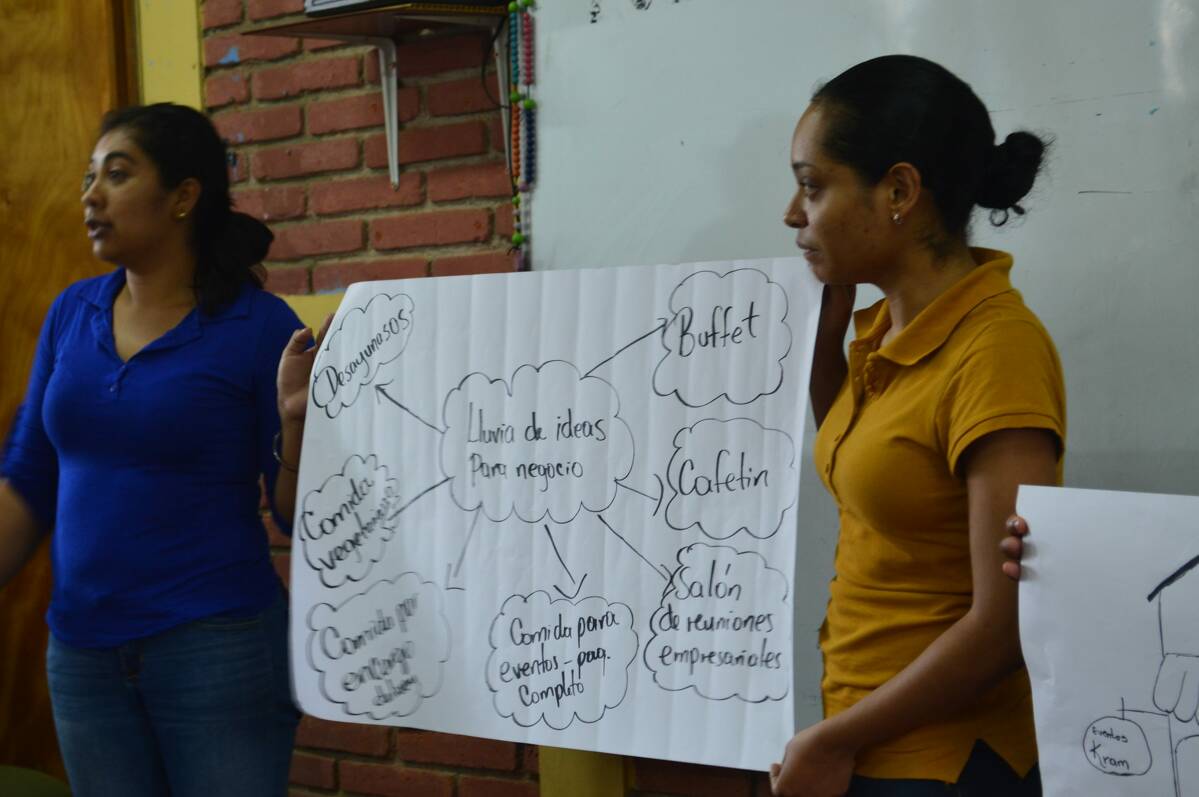 At the end of the workshop, the students go to the kitchen, where Eva, their instructor, awaits with the ingredients for the food they will learn to prepare that day: chicken in wine sauce. Eva divides them into groups and gives them instructions: "Group one: julienne the vegetables! Group two: season the chicken! And group three: prepare the sauce!"
Students wash their hands, put on an apron, gloves, and hairnet to perform the suggested tasks. While one group washes and peels the vegetables, another prepares the rice and another seasons the chicken. All the women concentrate on their work and little by little the kitchen is filled with an exquisite scent. The chicken is frying, the rice is almost ready, the salad is served, and the sauce is just about perfect.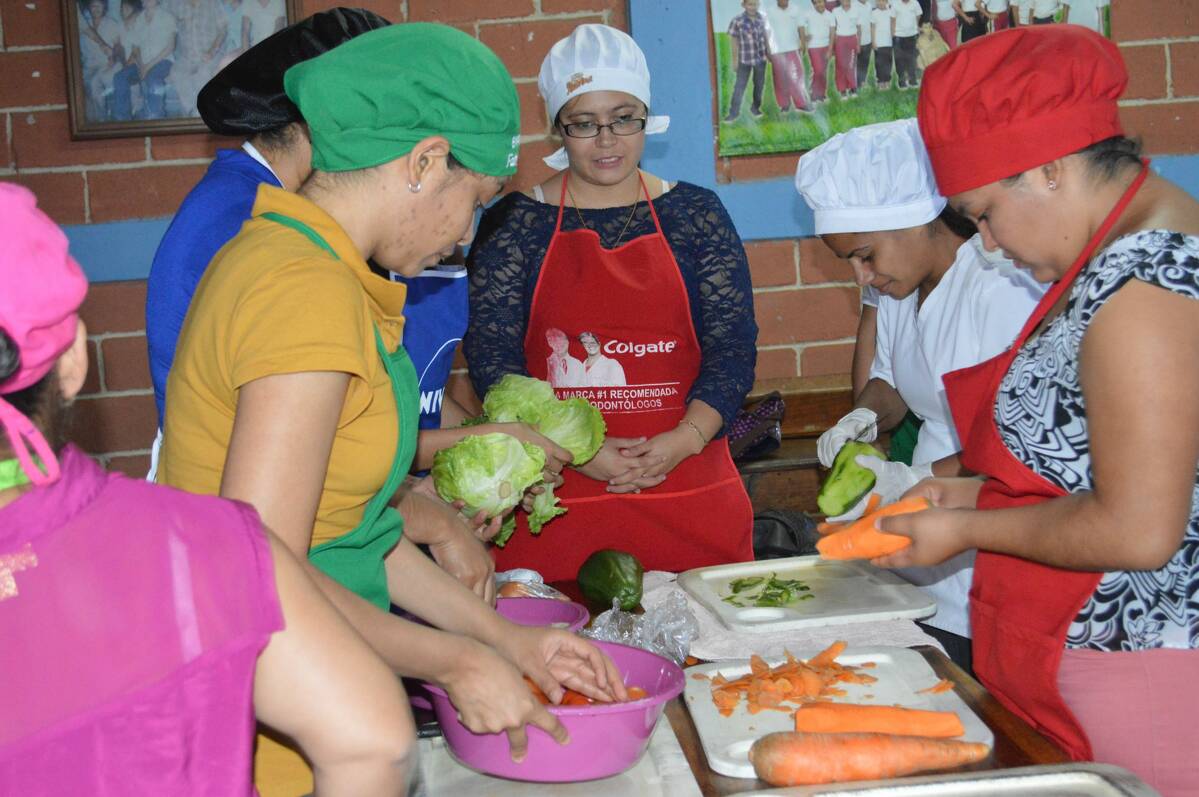 With the meal ready, the students set the table, making sure that nothing is missing, "it has to look good and taste even better," says their instructor.
After serving the meal, the students are ready to taste the food they prepared with so much love and dedication. This concludes an afternoon full of theoretical learning and practical learning. "Here they help us to have a broader vision of what we can do with the knowledge we acquire," says Indira López, one of the students. With this new skill, these women are on their way to a better future.