Jorgito and Juanita live in the rural community of El Macuelizo, located in a rocky, arid terrain on the outskirts of Esteli, Nicaragua, 2 kilometers from the municipal landfill. Despite the 3-year difference in age, when hearing Jorgito read, the two siblings may seem the same age. At 5 years old, Jorgito has never attended a preschool, but he has already read several children's stories in the library at his sister's school. There, Jorgito and Juanita have found an escape from the harsh reality of poverty.

Without formal work, Jorgito and Juanita's parents survive on less than $2 per day. The parents hand-roll cigars at a tobacco factory seasonally, but during the off-season, they can usually be found at the municipal landfill, collecting scrap to sell. Every day, both parents leave home at dawn and return after dark. While they're out, the family's humble house, made of rustic wooden boards and tin sheets, remains locked with a chain, but this does not prevent Jorgito from entering the home when needed. In a narrow space of merely 12 inches. between the dirt floor and the makeshift door, the slim child crawls through the darkness of the interior of the house.
On weekdays, when Juanita goes to school, Jorgito accompanies her with great enthusiasm. Without access to a nearby preschool, for now, Juanita is like a school teacher to Jorgito. Throughout their 40-minute walk to school, Juanita asks simple math questions, to which Jorgito answers without fail. If it were not for Fabretto's primary school located 2 kilometers from their home, the two siblings would be left without schooling. "Although Jorgito is still too young, he is welcomed at school with the same love as everyone else," comments Noel, one of the teachers at the Fabretto center.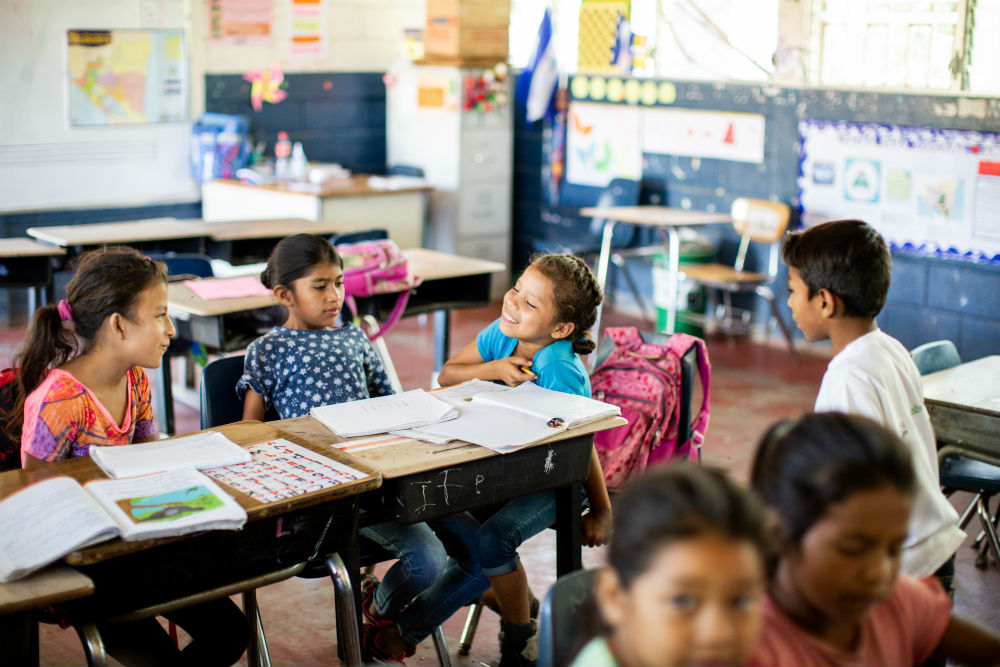 From 8 A.M. to 2 P.M, his sister attends class with Fabretto, while Jorgito waits patiently for his sister to share everything she learned during the day. Jorgito peeks through the classroom door, unable to contain his curiosity any longer. At times, he walks towards his sister's desk to get a closer peek at what she's working on.
Throughout the day, Jorgito walks through the school garden, flips the pages of storybooks in the library, and plays on the swing set, while looking forward to the school lunch. "The daily meal Jorgito and Juanita receive at the school is of great help, because sometimes we don't have money to feed them. That's why, although Jorgito is not enrolled in school, he still goes with his sister every day," explains their grandmother, doña Gladys.
Despite the limitations, Jorgito has not lost hope of one day having a seat in the classroom. Like him, many children in El Macuelizo have no access to preschool education. For now, Fabretto's primary school has become a second home and a space to dream.
This Holiday season, donate to support the future of children like Jorgito and Juanita. You have the power to give a little hope through education.