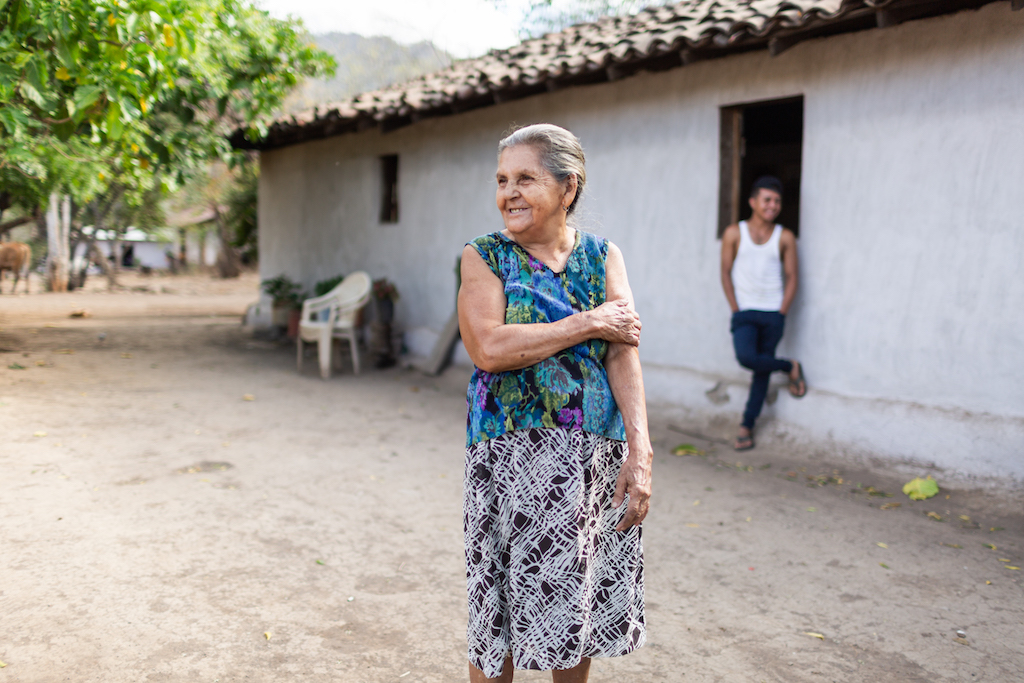 Despite having suffered the loss of a child, the abduction of her husband during the war, and living in poverty, María Adelina Poso continues to smile. At 86 years of age, she is considered the matriarch of El Lajero. Today, she speaks proudly of her 60 grandchildren and 15 great-grandchildren, many of whom benefit from Fabretto programs.

Fleeing and returning home
During the war, separated from her husband and filled with fear, Maria Adelina fled El Lajero with her 4 children. The woman walked more than 3 hours uphill with the children until arriving at the town of San José de Cusmapa, where she managed to protect herself thanks to the charity of Father Rafael María Fabretto. From that moment on, the Poso Family has been deeply linked to Fabretto.
"Father Fabretto took me in with my children and gave us food and shelter. To this day, even after his death, the 'Saint of the Poor' continues to intercede for my family!"
Three years later, reunited with her husband, at last, the woman returned to El Lajero, which she found a ghost community. Like Maria Adelina, the other inhabitants of El Lajero had fled, but only she, along with her husband and children, had managed to return. Having the whole area to choose from, the clever woman decided to settle on the banks of the river to facilitate the irrigation of her crops. Over time, through subsistence agriculture and with the support of Father Fabretto, Maria Adelina managed to face economic difficulties head on and provide for her family, which included 9 children and a husband who was still suffering from the long-term effects of his kidnapping.
Abundance in the midst of the drought
Years later, as a consequence of excessive deforestation in the area, the river began to dry up. Among the large, now uncovered, rocks, small stagnant pools of water remained. Here, the Poso Family and the 30 new families now established in El Lajero, had to extract what little water they could for farming and drinking.
"Without rain, we could not sow, nor sell. Our children got sick from the contaminated water. Before Fabretto arrived, we had no future."
Thanks to the support of great collaborators, the work of Father Fabretto managed to reach El Lajero, benefiting the entire Poso Family. To date, all the grandchildren and great-grandchildren of María Adelina benefit from quality education programs and at least two of her grandchildren have already completed university, something that María Adelina never had the opportunity to do. For Maria Adelina, education has been a gift that has opened the door to job opportunities and an income for the family economy.

Like a spring of clean water!
In 2016, Fabretto partnered with Procter & Gamble's Children's Safe Drinking Water Program, benefitting María Adelina's community and 17 other rural communities in Nicaragua. The program consists of water purifier packets to be distributed among families. Each 4-gram packet can treat up to 10 liters of water in just 30 minutes, eliminating dirt and bacteria that cause diseases related to the consumption of contaminated water. In 2018, Fabretto distributed 227,040 water purifier packets, equivalent to 2.2 million liters of clean water.
"Fabretto has changed our lives. That's why, in spite of my old age, I stay involved and help as much as I can."
María Adelina opened the doors of her home, which serves as a storage area for the P&G water purifier packets to be distributed in her community. In addition, the great-grandmother helps implement Fabretto's health workshops in El Lajero. Despite the blows that life has thrown her way, this woman has managed to become a community leader and an example of resilience for all.
"My life has been tough, but I'm still standing. Even in the midst of struggle, we can find reasons to smile. Life is like a constant search for a spring of water; we must continue digging."