This Valentine's day, we want to share the story of Eliza and Bryan who, through their story, teach us the true meaning of love; a love that gives all and shares all, simply aiming to make those who need it the most smile.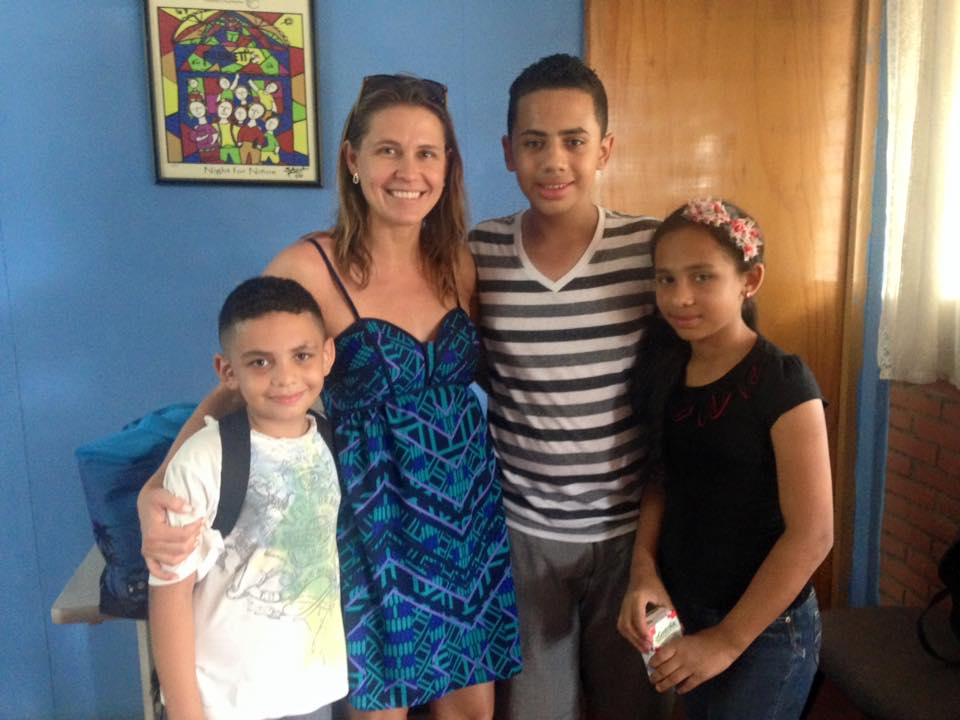 Meet Eliza
As the daughter of a US diplomat, I was raised in five different countries in Latin America, and it was my father's job that first brought me to Nicaragua in 2004. I was a first-year student at Georgetown University, eager to study international development in a real-world context like Nicaragua. Fortunately, during my first summer break at "home" in Managua,  I was introduced to Kevin Marinacci — a fellow Hoya who had dedicated his life to service, carrying on the legacy of the revered Padre Fabretto. I was so inspired, and in classic Kevin style, he immediately invited me to join an Old Saint Pat's trip to Cusmapa that summer! I accepted and somehow got 'promoted' to being the trip 'leader' when Kevin had to unexpectedly return to Managua, and the rest is history! During that week in pristine, rustic and certainly challenging Cusmapa, I fell in love with Nicaragua's varied landscapes and the warm Nicaraguan people. I spent the next four years co-leading Fabretto's Service Trips and volunteering at the Fabretto office in Washington, D.C. area, until I managed to convince Kevin and co., to hire me full-time! From February 2010 until August 2013, I served as Development Associate & Volunteer Coordinator at Fabretto's office in Managua, met hundreds of amazing Fabretto staff, volunteers and donors, and fell in love (in Nica) for the second time!
Meet Bryan
Born and raised in San Diego, which shares a border with Mexico, I was always surrounded by Mexican culture and had many binational friends. My mom is a Spanish interpreter and ensured that my sister and I learned Spanish from a young age, although it wasn't until I realized how good the waves are in Central America that I pursued opportunities to spend time in the region, like a year-long study abroad program in Costa Rica. I first visited Nicaragua during that year and again on a backpacking/surf trip after graduating with a degree in Business Administration from California Polytechnic University (Cal-Poly). After a couple of years slaving away as an Auditor back in California, I burned out, quit my grueling job, and was accepted into the Kiva Microfinance Fellowship program in 2009. As a Kiva Fellow I spent 3 months supporting small business owners in Peru, and then, on a whim, accepted a second fellowship in Nicaragua. My Kiva roommate and I spent most weekends escaping 'dangerous' Managua to surf the warm, nearly-empty waves at beaches near San Juan del Sur, so at the end of our fellowship, we were really surprised to discover a whole group of fun, interesting expats and their welcoming Nicaraguan friends in Managua. A mutual friend from Costa Rica had introduced me to Caitlin, Eliza's roommate at the time, who had organized a large group outing on the famous Topo Chiva party boat in Laguna de Apoyo.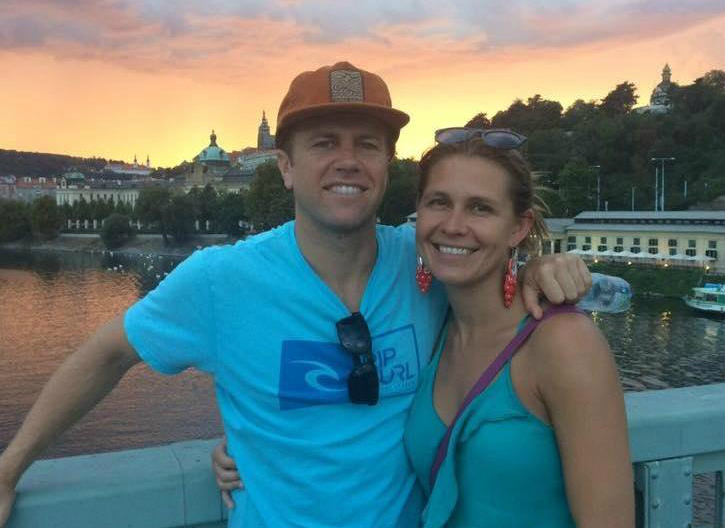 "Our Story" (written by Eliza)
The meeting spot for this excursion was at GHOP (George's House of Pancakes) in Managua. I recall Bryan and his roommate walking up and introducing themselves – I was struck by his quintessential scruffy surfer style which certainly stood out in Managua. Despite his fashion sense, I was drawn to his smiling eyes and easy-going attitude. (Bryan swears he singled me out immediately too, but we were an overwhelming group of 30 rambunctious friends). Once we got out on the boat, conversation flowed naturally and we quickly felt like old friends, hanging out almost daily with mutual friends like fellow Fabretto volunteers Bridget, Mallory, and Elena.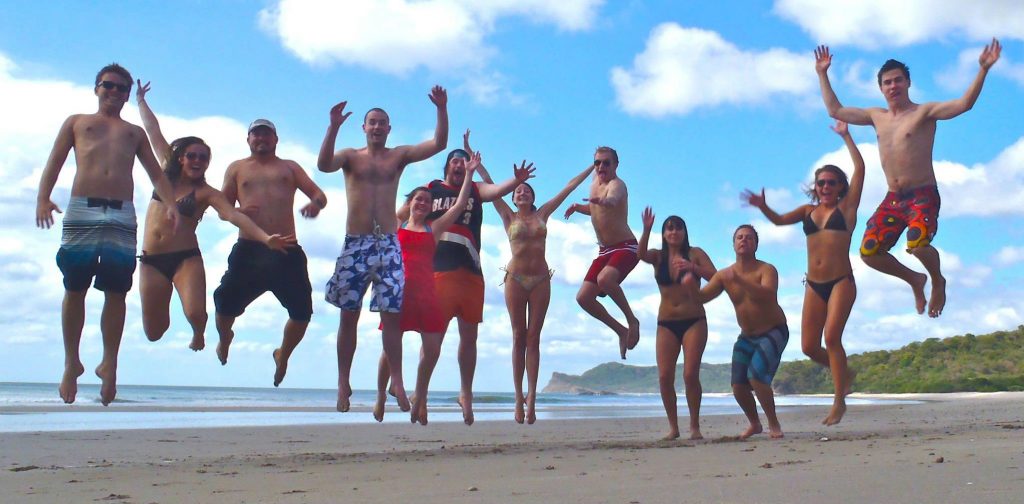 Within weeks of meeting, Bryan was supposed to return home to California to look for a job, but when he asked to leave his surfboard at my and Caitlin's house, I had a feeling he would be back sooner than later — and was pleasantly surprised when he returned to job hunt in Nicaragua instead! After about four months of cooking meals for our roommates, long bus rides to remote 'surfer' towns, and even a trip to visit my family in Costa Rica, no one was surprised when our friendship turned romantic in August 2010. Bryan really attributes the success of our relationship to Kevin Marinacci and Peter Schaller, Eliza's bosses at Fabretto, who helped him secure a job at BuildOn, a partner organization building schools in rural areas of Nicaragua, which kept both of us there for another couple of years. We are forever grateful!
After a short long-distance period while I was in graduate school, we moved to San Diego together in 2015 and in September 2017, Bryan proposed when my family was visiting. In the words of…well, almost everyone who knows us… "It was about time!!"
The Wedding
Within minutes of being engaged someone asked where we might get married and without hesitation we both said "a beach in Nicaragua?" We were beyond excited to bring all of our loved ones to this special place in the world, and by December 2017 we had everything set to be married at our friend Pili's restaurant in Playa Colorado. Eliza dreamed of organizing a group volunteer trip to Cusmapa, to experience that magical place and introduce everyone to Fabretto's incredible work and family of staff and students.
Last July we made the heartbreaking decision to move our wedding destination. We didn't want our friends and families' perceptions of Nicaragua to be tarnished by this rough period in history. We were extremely fortunate to be able to move the wedding to Costa Rica, another country that was home to each of us in the past, and now has opened its doors to so many Nicaraguan refugees. This past November, Bryan and I made our vows to each other in front of over 190 friends and family on Playa Conchal, Costa Rica, just a few miles south of Nicaragua. It was truly the best day of our lives!
Throughout our wedding planning we knew we would be asked to set-up a registry, but are content with our worldly possessions, and only truly ever lack money to travel more and to contribute generously to the causes that we care about like Fabretto!  So, as a way of giving back to the country that is very much a part of our story, we decided to give our wedding guests the option of donating to Fabretto in lieu of gifts. We are honored that so many guests opted to do so and that we have been able to share our wedding with Fabretto during this difficult time for Nicaragua. As a token of our appreciation and souvenir from the weekend, we are now sending everyone who donated a pine-needle star ornament made by the women's basket cooperative in Cusmapa.
Nicaragua brought us to each other, and the Nicaraguan people taught us so much about gratitude, friendship, and love. We can't wait to return there as a married couple and see our old amigos at Fabretto!
Contact Fabretto to find out how you, too, can give back on your special day.