This month, Fabretto is celebrating the graduation of 16 preschool students from Somoto, 24 youth from the SAT program in the community of San Isidro de Bolas in Managua, and 40 entrepreneurs from fashion and jewelry-making courses in Acahualinca, Managua. Each graduate is a seed for the prosperity of Nicaragua planted by the benefactor of children, Father Fabretto.
Preschool Graduation
Walking down a white stone path leading to the Fabretto Education Center in Somoto, 16 children come in a single file, complete with graduation caps and gowns and, of course, a big smile.
"They are coming!" is heard and everyone goes out to receive the preschool graduates, who arrive after a short tour of the streets of Somoto. For a city where access to education is so limited, being part of the culmination of a child's initial formal education is an event not only for the family but also for the community. They are accompanied by their parent or guardian, who walk proudly next to them.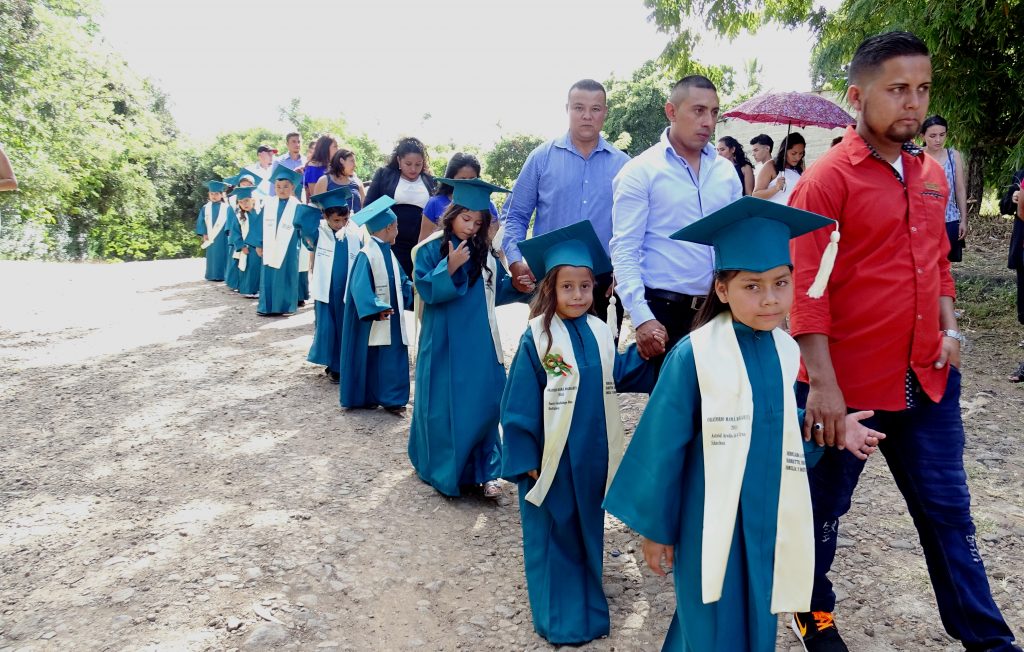 "Since he started studying at the Fabretto center, he has gradually achieved so many goals. At six, he already knows how to read and that is a great thing for our family. Now he is going to start the next level of studies where he will learn even more," proudly explains Luís Enrique, father of Densin Enmanuel.
Fabretto's Early Education program's objective is to provide children ages 0-6 with the attention, stimulation, and nutrition they need to succeed at the primary level and beyond. The program supports children's holistic development and early learning, helping children to meet key milestones in accordance with their developmental stage. Communication is developed to exchange ideas, feelings, and emotions with others and to encourage the development of cognitive processes that favor learning. Fabretto aims to promote the transition to the next educational stages for children in vulnerable situations, highlighting the educational role of the family, the community, and the team of teachers who guarantee quality education by participating in extensive training and workshops.
SAT Graduation
Fabretto is also proud to announce the graduation of 24 youth from Fabretto's SAT Program in San Isidro de Bolas. Despite having suffered through months of unrest in Nicaragua, these students have much to celebrate. Throughout the past 5 years, they have journeyed together (even with the same SAT tutor) to achieve numerous educational milestones. From keeping a school garden to growing chickens to starting their own entrepreneurial projects, these students have become experts in all things agri-business thanks to Fabretto's learning by doing model. Some will go on to college, most will start their own business, some will do both, but all are ready to face the world-after-high-school head on.
Fabretto's SAT Program began in 2007 with the goal of implementing an innovative high-school program in remote rural communities. The SAT curriculum is built on four main pillars: mathematics, science, language & communication, and community service. Students also learn how to identify economic opportunities in their communities and develop small business initiatives (such as cash crops, beekeeping, raising chickens, etc.) through student-run cooperatives. The SAT program is an alternative secondary education program accredited by the Nicaraguan Ministry of Education (MINED).