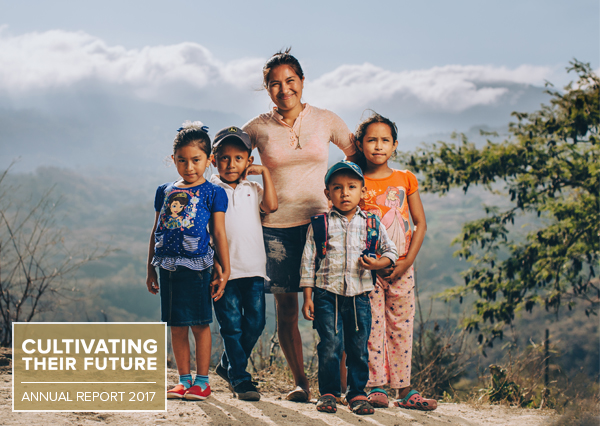 At Fabretto we believe that education is the seed for a better future. In 2017, we witnessed a great harvest of achievements for our children and youth in Nicaragua that would not have been possible without your help.
Thanks to the support of parents, teachers, community leaders, strategic allies, and unconditional friends like you, we were able to benefit more than 31,000 at-risk students. Your generosity has impacted the lives of students like Maria, who through educational enrichment has managed to break sociocognitive barriers and excel in school (more on page 8). Together, we helped reduce the primary school repetition rate from 41% to 26% in 286 public schools benefited by Fabretto in the South Caribbean Autonomous Region (RACCS). Furthermore, for the first time, more than 200 rural youth were the first in their families to have access to secondary education in their communities.
Looking back, we witnessed the impact of agriculture on the reduction of poverty, especially in the rural regions. For that reason, we managed to join forces to strengthen our Rural Secondary Education Program (SAT), offering technical education focused on the development of agribusiness. As a result, young farmers like Ever, increased the productivity of high-value items such as honey, coffee, and chia, becoming agents of change that contribute to the local economy.
In 2017, education undoubtedly paid off in disadvantaged communities. Thanks to you, children, youth, and their families are coming
closer and closer to breaking the cycle of poverty.
Thank you for helping us to cultivate their future.

Kevin Marinacci
Read the full 2017 Annual Report: