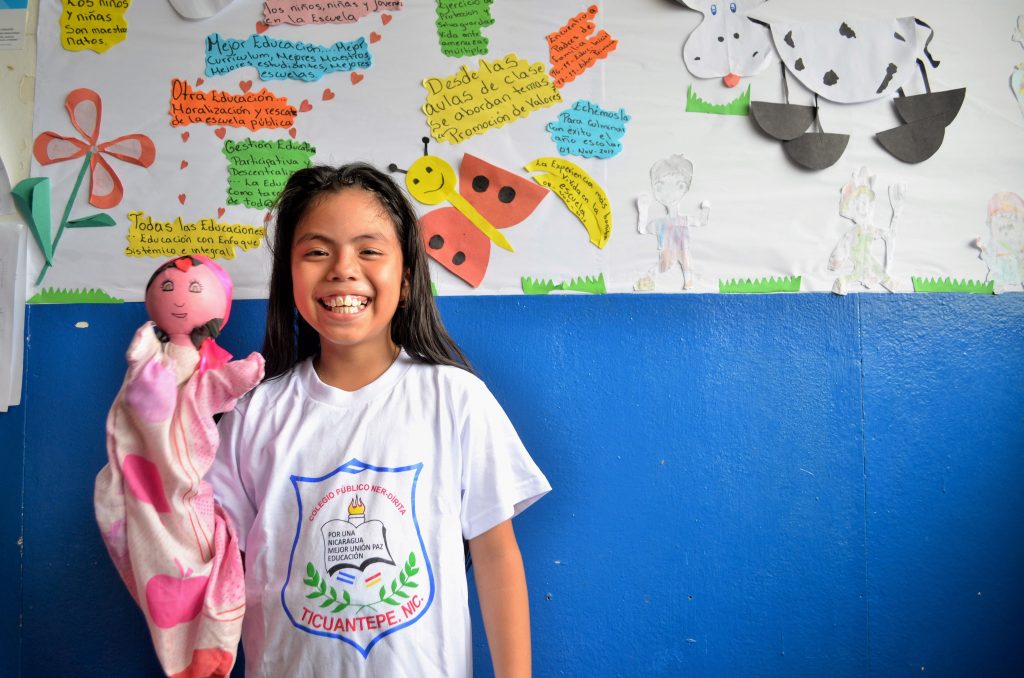 The show almost always starts the same way. They announce the puppet show and one of their classmates announces the group. Joseling, like her friends, is crouching behind the theatrical, waiting for her turn to give life to the characters she has created. For this 9 year old girl, every time they have a presentation it is an adventure and an opportunity to get to know new places and people.
The group of enthusiastic children have set up 4 plays together with the coordination of the  Director of the Dirita School in Ticuantepe. The plays promote food and nutritional security, environment, healthy hygienic habits and reduction of food waste.
In 2017, Joseling participated in workshops on how to create puppet shows in schools that was promoted by the Project Nurturing the Future, executed by Care in partnership with Cargill and executed in Nicaragua by Fabretto Foundation. "Teacher Rita went by every class and asked if anyone wanted to sign up to participate. I signed up." confesses the girl, who is one of the most active members of the cast. Like the Dirita school, 23 other schools also implemented this course, belonging to this CSR initiative, facilitated by the Association promoting Culture (APC). In this initiative, the children learned everything about how the scripts were developed,  and how puppets and theaters were created with recycled materials.
Joseling represents her classroom as president, and is always participates and volunteers in the elaboration of murals, food lunch coordination, and cleaning. "I like to decorate a lot" expresses the young child, who also enjoys meeting new people and making new friends. "When we go to events I speak to adults and if they are foreigners I ask them where they are from, how they have been. "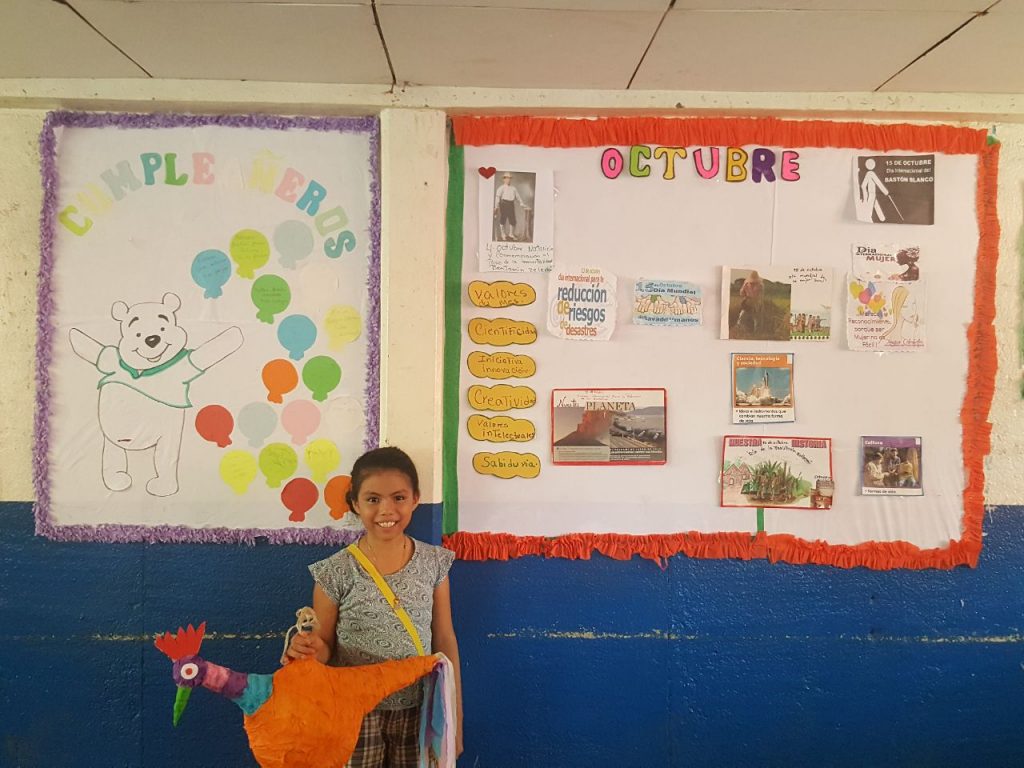 This dedicated student lives with her parents, her two brothers, her grandfather and her aunt. Her father and mother work in a local company and receive technical schooling. According to Joseling, they believe that with proper education, their children can have better opportunities, "opportunities they did not have".
"My dad supports me, he says that the puppets awaken creativity," she says proudly. She also adds that he is the one who supports her in carrying out her tasks, mainly when it comes to drawings or crafts.
Learning by playing has been one of the successful methodologies of the project Nutriendo el Futuro in Nicaragua. By promoting this, many children not only have learned about food and food security, but have also become promoters within their school and community. The teaching between "peers", through crafts in more informal and less structured spaces out of a classroom has been more effective and welcomed by the students.
Joseling would like to continue being a puppeteer, "I have learned about how to eat healthier and how to take care of nature and it is nice to teach other children", I would also like to be a doctor. "I take care of my grandfather and am not afraid of blood. I have seen doctors decorate their offices pretty. I would like to have one and decorate it like that, with posters and murals. "
In 2015, during the first phase of the project, the first training process focused on formation of puppet groups, with fourth-grade boys and girls from 19 schools. The results were significant! In the final evaluation, children of fourth, fifth and sixth grade who had participated in the league of knowledge, puppet groups and mobile community activities such as the blue bus, had better knowledge about food and nutritional security.
During this second process of developing puppeteer groups, those students who had participated in the first process came to support their peers during the workshops and in the elaboration of the puppets.
The puppet show at the school had ended. . Joseling leaves the theater with a huge smile and greets her spectators who applaud her.