Silvia Larumbe is the Fundraising Associate in Fabretto's office in Spain. This year, her daughter Alejandra celebrated her first communion and was very eager to celebrate with a double purpose:  to have a family reunion and to be able to help the children of Nicaragua who are so present in Silvia's everyday life.
"I have been working in Fabretto for more than 4 years and my children are growing older and are more aware of how privileged they are." They know that their mother works to improve the lives of many children like them in Nicaragua. When we suggested to Alejandra that we could possibly ask her first communion guests to donate to the children of Fabretto instead of bringing gifts, she liked the idea very much and it seemed like the best way to instill solidarity in our daughter. "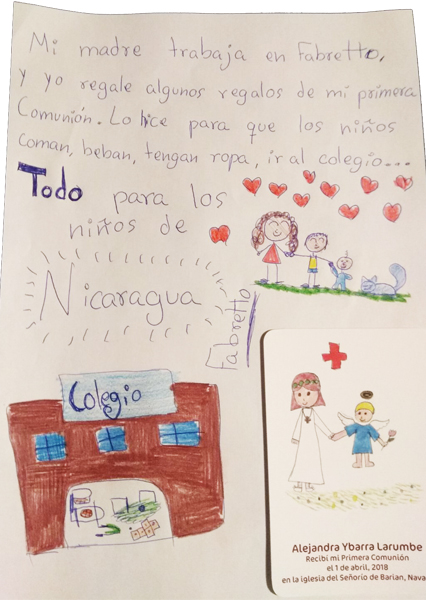 These are special occasions that be forever remembered. For this reason,  FABRETTO ENCOURAGES YOU TO CELEBRATE IN A BIGGER WAY by making your special day a life-changing celebration.
You can multiply your happiness and give more meaning to your celebration. Contact us to set up your celebration for a cause.
Celebrate the First Communion of your children in a giving way, a celebration that transcends. Ask your guests to make a donation to Fabretto in lieu of gifts.
THANK YOU ALEJANDRA AND SILVIA, YOU ARE AN INSPIRATION TO ALL