4-6-18 | Our Programs
On World Health Day, we all have a role to play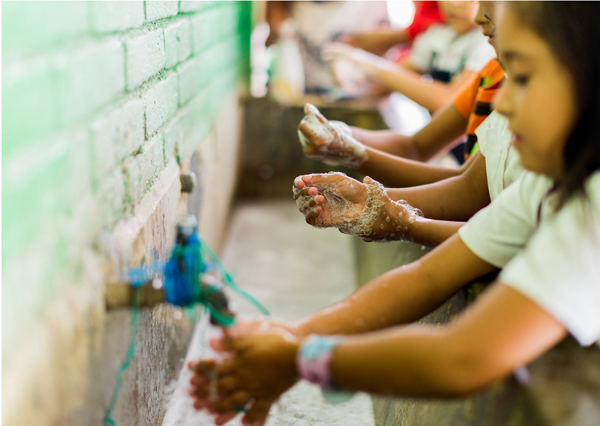 Once again, Fabretto joins the World Health Organization (WHO) and other organizations around the world, to celebrate World Health Day by promoting proper health techniques among the people we serve. On this day, we raise our voice to claim this fundamental right.
Currently, at least half of the world's population does not receive essential health care services, and almost 100 million people are immersed in extreme poverty and forced to survive with only $1.90 or less per day, having to pay health services for themselves (WHO).
Fabretto Children's Foundation recognizes the fundamental role played by civil organizations in guaranteeing prevention, care, and access to health services. In order to help, Fabretto implements health workshops among students, teachers, and parents. The main focus of these workshops is to raise awareness, reduce diseases, and ensure a better quality of life. One of the daily activities that takes place in Fabretto Education Centers is the washing of hands before and after each meal. According to the Handwashing Organization, this measure can help protect anyone from up to 200 diseases. In addition, our Early Education program also serves pregnant mothers and babies from 0 to 3 years through Early Stimulation sessions. Actions such as these help improve the health of mothers and children through early childhood stimulation and are essential in the first years of their life in order to secure a child's maximum potential in each stage of growth.  
Additionally, one of Fabretto's main focuses is the community's well-being. For this reason, Fabretto seeks strategic alliances to improve the quality of life of families at risk. For example, thanks to Procter & Gamble (P & G), families in rural communities now have access to clean drinking water.  Through this project, for the first time in history, Nicaragua became a beneficiary of the P & G water purifier, an innovative product that many call "magical" because of its incredible ability to remove dirt and bacteria from water in just 30 minutes. Today, results have already been seen. Young Neymar, who, at age 5, was on the verge of death due to the continuous consumption of contaminated water, is clear proof of the effectiveness of the water purifier. Thanks to this project, he has recovered his health and has not fallen sick since. The consumption of contaminated water is the cause of 842,000 deaths per year, most of them children under 5 years of age.


Join Fabretto and raise your voice. Anyone can take part by contributing to structured dialogues on policies that can help your country achieve and maintain universal health care coverage.

If you would like to make a donation to continue supporting our programs in Nicaragua, donate now.