3-9-18 | Shared Stories
La Lumiere: 10th Trip to Nicaragua – The power of universality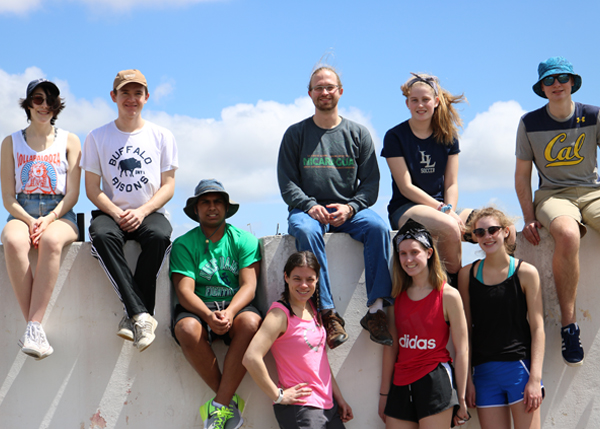 Before embarking on our journey, La Lumiere students came together several times to learn about the complex history of Nicaragua and life story of Father Fabretto. While this time proved valuable, exposing and preparing us for travel and work in a foreign land, nothing could truly prepare us for the breathtaking beauty, traditions, and communities present in Nicaragua.
La Lumiere and Fabretto have a wonderful, lasting relationship. It started with Colleen Kennedy bringing students to Nicaragua as a trip leader 10 years ago. This year her daughter Lily, a senior a La Lumiere, had the opportunity to join the trip and see everything her mother had shared with her, "I was inspired to come on this trip by the stories my mother told me about living in Nicaragua as a young adult. Working with Fabretto and meeting the people here has been one of the best experiences of my life, and I hope to come back someday soon to serve again." Lily walked the same dirt roads her mother roamed years prior, experienced the same unforgettable sunset and stars and met center staff and community members her mother has known for years.
Despite the stark contrast that greeted us upon arrival, like dirt roads, mountainous landscapes, and warm climate, many similarities were easily seen between Nicaragua and the United States. La Lumiere had the opportunity to go to the new baseball stadium in Managua to watch the Nicaragua vs. Cuba friendly match. The Nica vs. Cuba game meant so much to me as a college softball player because it reinforced the universality of the game. Even in Nicaragua the game brought people together and it was amazing to be a part of it. Trevor Cary, a junior at La Lumiere, had the same reaction, "I loved the baseball game and the similar atmosphere to sports in the States."
Our adventure then shifted away from the city lit by tall glowing electric trees and took us up over mountain ridges to the place we would call home for the remainder of the trip, Cusmapa.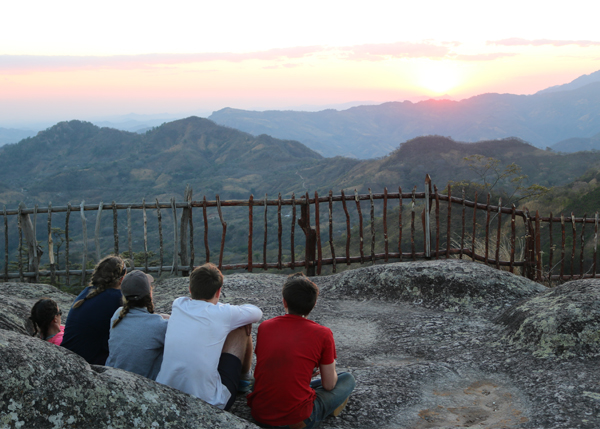 Life in Fabretto's volunteer house, Casa Loyola, quickly became routine. Every morning we were greeted by the smiling face of Doña Josefa and the wonderful smells of local coffee and communal breakfast, featuring both local and traditional fares.
We then loaded the repurposed Fabretto ambulance and embarked on the 30 minute drive with Don Mario, who we quickly nicknamed Super Mario and Superman. The roads to the work site included winding mountain lanes, dirt roads, and rocky paths. Treacherous and difficult for most drivers, Don Mario delivered us smoothly and safely every morning and returned us the same way each night. He even joined us on the work site many days, giving us much needed advice and assistance in completing our tasks.
The work days were difficult both mentally and physically. Many of us had never used some of the tools now placed in front of us, like pickaxes, hoes, steel bars, and even the occasional machete. The tasks laid out for us seemed daunting at first: leveling a hill to make room for a water tank, clearing a rectangular ditch to add a drainage system to the newly constructed greenhouse, and agricultural maintenance inside the greenhouse.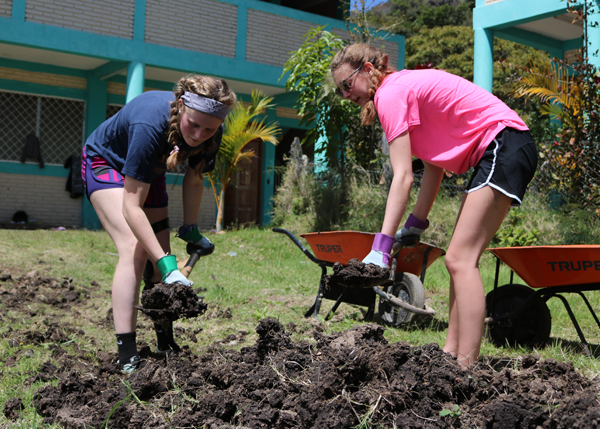 But with every strike of the pickaxe, every wheelbarrow load of dirt, and each dirt filled sack removed, our goals seemed more and more attainable. The group felt elation and pride when we were first told by Jamie Papageorgiou, our Fabretto trip leader, "the hill project is done. The water tank will fit!" On the last day, when the final "saco" bag was moved and the last slumps of dirt had been tilled, we were all humbled by what we had accomplished alongside the workers in Las Sabanas.
The days were not all work and no play however. Each afternoon we visited local schools and played with students ranging in grades from one to eight. Although we often did not speak much of the same language, kickball, frisbee, soccer, and "Pato, Pato, Ganzo" (also known as Duck, Duck, Goose) allowed us to overcome the barrier of language. These afternoon recesses were full of laughter, excitement, and joy. Much of the equipment we brought to play with (soccer balls, racquetballs, frisbees, kickball etc.) were left as a small token to express our sincere and deep gratitude for the happiness and memories we made playing with, learning about, and learning from the inspiring children.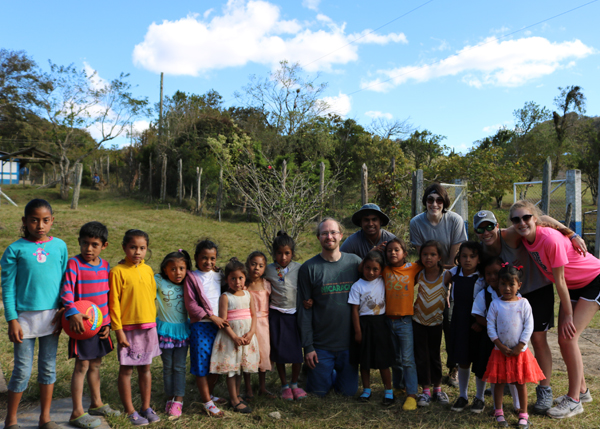 Over the course of the week, La Lumiere students relished in the beautiful landscapes and enjoyed how friendly the Nicaraguans are, including Kate Yemc, "The beautiful mountains of Cusmapa are views that I have never even dreamed of before. The views don't even seem real. Not only are the views amazing but also the people. I love that the people passing always say "Adios", even though we're strangers." One of Molly Caplice's most powerful moments was when a little girl reached out to hold her hand. It reminded her of being a camp counselor. It's exactly what one of her campers in the US would do, "The people have been so kind and welcoming. Working with the kids has made me so happy. I have never had an experience like this. I am so happy I came."
Every night the group came together to recap the day and participate in a discussion led by the trip leader Tim Earles (aka Tearles).  With thought provoking questions, inspiring quotes, and memories from the past ten years serving with Fabretto, Tearles created a space in which students and adults could discuss the significance of the trip within their own personal lives and the lives of the people we worked with and encountered.
Silent moments allowed everyone time to reflect on new experiences and worldviews they encountered while processing the memories being made. Evening visits to local establishments including Nora and Noel's coffee tour, the jewelry cooperative, and the basket cooperative, allowed everyone to not only see daily life within the village but also the far reaching impact and relationships Fabretto has within so many communities. Musical performances, mountain hiking, and attending a local English language class provided a once in a lifetime cultural exchange allowing us a small glimpse into the traditions, culture, and individuals who make up the community of Cusmapa.
As this final reflection comes to as close, I realize the length of the account. But there will never truly be enough words to encapsulate the way this trip has truly impacted my life. There will forever be daily moments that I will reflect, remember, and reminisce about my time in Nicaragua. Becoming a part of the Fabretto family is an accomplishment that I will cherish and it will impact my life forever.
"Thank you" seems a humble phrase. But it is these two words, though simple in their own right, that I now use to express my deep sense of gratitude for the profound life changing adventure myself and the LaLu group of 2018 were able to experience. So with that, thank you to Colleen Kennedy for creating this trip and weaving it into the fabric of La Lumiere traditions. Thank you to Fabretto, Jamie, and Tim for guiding and mentoring us along this journey. Thank you to the LaLu students for being inspiring and generous individuals. And finally, thank you to the people of Nicaragua, who have given me more than I could ever express in words.
With gratitude,
Dettey Bielizna