3-1-18 | Shared Stories
6 Things I learned from traveling with Fabretto to Nicaragua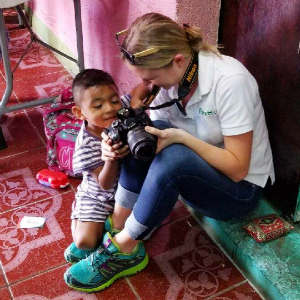 My name is Chrissy Strasser I have been an employee of Fabretto Children's Foundation since 2012. As an event planner and fundraiser in the United States, I don't have the opportunity to travel to Nicaragua often to see all the programs on the ground, which is why I decided to join the first Friends of Fabretto trip of 2018. This trip, in particular, came at a time that is unique in my life. I tried to write along the way and hope that many of you (our wonderful Fabretto family) have the opportunity one day to see the wonderful work that you help make possible for the amazing communities in Nicaragua. It is a trip that can certainly impact your life in so many ways. Here are 6 things I learned from traveling with Fabretto.
1. Sometimes it's time to get away from it all and experience things in a completely different way." – Kim Mance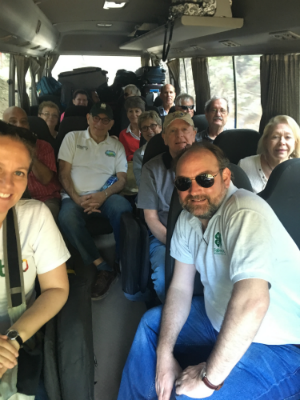 Starting a journey always conjures up a lot of feelings for me. Usually, excitement is always first but then some anxiety and nervousness sets in. Especially before this trip, I was feeling that way more than ever. Our family lost a member of it recently and feeling that loss has been at times unbearable. When 12-year-old Will left us on this earth so unexpectedly and intensely, it's like everything is bare. It's like starting a brand new life but missing a vital piece. Small things suddenly became extremely more relevant. Hard to explain. The word "die" never gets easier to say or write. It is so final. So it's easy to say that starting this journey has been difficult but I'm here and hope that during this time I can learn to reflect, take a step back and be mindful as I take on each day. This country and these people have so much to give to a healing heart.
2. "Wherever you go, go with all your heart." – Confucius
This country is no longer foreign to me. I have only been here a handful of times and yet it no longer intimidates me. I don't feel uncomfortable and that's a comforting feeling.
Speaking of being mindful, I have been learning to look at things differently. The purpose of this life and making it more meaningful. All these things run through my brain and maybe through everyone's on this Friends of Fabretto trip. Trying to gain insight after seeing the hard but also joyful lives of so many children in this country.
We visited a SAT (Rural Secondary Education) class in a rural community in Mozonte today. The SAT program just started in this remote area of Nicaragua. We spoke with the children about their livelihoods and interests. Many of them don't have time to be children at all. Only one child's family in the class of sixteen students owned a motor vehicle. Two students had a refrigerator in their home. One of them walked two and a half hours to get to school each day. None of them had working toilets in their home. Most of them and their families work on coffee farms to earn a living. They make an average of $7 a day for the coffee they pick. Hours and hours of labor. It was emotional to witness their experiences and hear about the struggles on a day-to-day basis and yet they were still joking. That's what life is about, right? Learning to live through the hardships with laughter and happiness. Feeling thankful for the opportunities I have been given to see these parts of the world and figuring out how to make more of an impact along the way.
3. "One's destination is never a place but a new way of seeing things" – Henry Miller
Waking up extremely grateful this morning. I am surrounded by beautiful people on this trip; the children we are visiting, the driver taking us around to all corners of this country, the wonderful Fabretto cook who made us dinner and lunch and her son who played on my laptop last night while his mom made us a meal, our incredible staff both in the Education Centers and traveling with us. So many incredible human beings connected to Fabretto. It's an intensely wonderful feeling as I wake up.
4. "I am not the same having seen the moon shine on the other side of the world" – Mary Anne Radmache
I'm a details person. I always notice body language, reactions, the look in someone's eye, the bracelet on their arm, whether their shoe is tied or button is buttoned. Observing this trip, I have seen so much good. That's what is so ironic about seeing Fabretto and Nicaragua. You expect to feel heavy, sad but the people are so good. They are so joyful, so optimistic. It's refreshing and amazing.
5. "Every few hundred feet the world changes." – Roberto Bolano
Packing up and heading down from the countryside of Cusmapa. We watched an incredible sunset last night and learned about the astounding work that our students doing in Las Sabanas. The new entrepreneurship initiative taking place thanks to a project funded by the Multilateral Investment Fund (MIF) is really interesting and will help to bring money to those who live in a place that is rural and where economic opportunity is scarce. This initiative trains Fabretto beneficiaries to learn to be professionals in what they choose to grow and sell.
We stopped in Esteli coming from the north and visited the happy Esteli Education Center. Kids running around, learning English, watching traditional Nicaraguan performances, so many smiles and as always so much to be thankful for. Esteli, a growing city with boys and girls ready and eager to get to their Fabretto classes. Many of those on the donor trip had sponsored students to visit in Esteli. I was one of them. Naurieth, now a student at the University across the street grew up attending Fabretto programs, graduated from Secondary school, and now attends classes at the University. She tells me she wants to become a counselor, to help other children and to be a listening ear.
6. "It is good to have an end to a journey toward; but it is the journey that matters, in the end." – Ernest Hemingway
We end our journey in the colonial town of Granada. A splendid town with colorful churches and city folk. As I reflect on the last week, I think about what impresses me so much about Fabretto beneficiaries. These students want to give back to their communities, to improve their economy, to learn new skills. They don't want to leave their country or their families. They know how important it is for sustainability within their community and they are willing to go the extra mile in all they do. They have no choice for failure. They only see opportunity. What a special thing to be a part of when everyone involved cares about the future of their surroundings.
I saw Will in many of these students. The goofy, bright-eyed boy eager to be with friends and make jokes, the boy in the corner of the library reading his book not aware of the loud noises around him, the boy that was fully himself in front of his friends – sharing stories, being there for them, listening to their problems. Children are amazing. So resilient, ready to take on life, and full of optimism. It was difficult to watch every day knowing that Will no longer had that opportunity but something tells me he is helping each of them on their way.
I took so much away from this journey and I'm so thankful to be in this life. Among the painful times, life is so beautiful and what an amazing thing that is.
Please contact us about participating in future Friends of Fabretto Trips.