Former work colleagues and relatives of Zach Ciperski, showed great emotion to see his photo hanging on San Juan de Oriente's library which has his name. This is their third visit to Nicaragua since 2015, when they decided to honor Zach's memory by building the only public library in the community.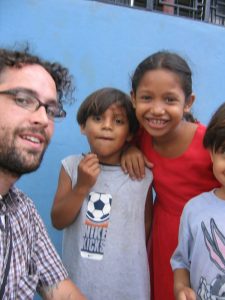 "Zach was an avid reader; I remember that a few days after his passing, his dad, Ed Ciperski, called us to ask for help in deciding what to do with his extensive collection of books, "recalls Zach Morrison, President of Elite SEM. Inspired by his passion for reading, in 2015 the Ciperski family and Elite SEM joined forces to build the library, which today also serves as one of Fabretto's Education Centers. Since then, employees of Elite SEM, together with the Ciperski family, make an annual trip to Nicaragua to continue strengthening the educational project that has benefited approximately 400 students to this day, and has had a positive impact in the entire community.
Inauguration of the "Elite SEM" Pavilion
In February, during their third visit to Nicaragua, the Elite SEM collaborated in the construction of a new student pavilion, which will allow Fabretto to serve more students and carry out cultural activities with the community. "Every year we raise funds for the library; this time we thought that an outdoor pavilion would be very useful and wanted to get fully involved in its construction, "commented Morrison. The team spent several hours under the sun, excavating the ground, removing cement, and painting the structure, all while listening to Bob Marley songs (Zach Ciperki's favorite music).  After 4 days of hard work, they signed the finished project by making handprints in cement, a gesture that symbolizes their deep commitment to the community.
To inaugurate the new and spacious pavilion, the Director of the Library and Education Center, Adelayda López, organized a celebration with students, teachers, and parents; songs, dances, poems, and a even a piñata, were part of the joyful and emotional celebration. "Today we want to thank you for being so generous with us, just as Zach was in life; rest assured that his mark will not be erased from our hearts. You have not only helped us with material things, but have also shared your love and dedication," were the words of a mother during the event.
More sponsored children
Elite SEM sponsors 50 students in San Juan de Oriente, where they benefit from school enrichment programs and personalized follow-up by Fabretto staff. That is the case of 9-year-old Danwaskar Moisés, who this year was sponsored by Elite SEM. His mother, Ligia, has already noticed significant progress in his school performance. "My son could not even read vowels, but here [in the Library] he learned to read fluently in a short period of time," she says with a smile.
The recent visit of Elite SEM allowed them to witness the impact of the project and connect with the students they sponsor. "Our goal is to continue strengthening the education for the children of San Juan de Oriente, that's why we promote sponsorship among all our employees, which is already part of our induction process," says Abby Stone, Vice President of Customer Service and Communication at Elite SEM. Abby is a child sponsor and has become one of the main ambassadors of Fabretto's sponsorship program. "Every time I come to Nicaragua, I make sure to take pictures and videos of all the sponsored children and then share them with colleagues who could not visit. This time, I handed every child a picture of their sponsors to remind them how much we care and think about them," explained Abby.
Shoes that Grow!
During their visit and as part of the continuous support for the students of San Juan de Oriente, the Ciperski family raised enough funds to donate 30 pairs of shoes through the non-profit organization, The Shoe That Grows. Each shoe has the ability to adjust depending on the student's growth, contributing to the child's well-being and school attendance. Ed Ciperski delivered the shoes in Nicaragua, which were received with great joy, just in time to debut on the day of the inauguration of the new pavilion.
New Backpacks and School Supplies
To top off such a generous and exciting week in San Juan de Oriente,  Lokono backpacks made their donation of 50 backpacks equipped with school supplies through their "Pack for Pack" program (a backpack for a backpack). The delivery was made on Friday, February 23, along with students and parents in the new Elite SEM pavilion.
Fabretto appreciates the generosity of Elite SEM, the Ciperski family, and Lokono. Their commitment to the education of children in Nicaragua is transforming their future and contributing to community development in San Juan de Oriente. It is thanks to partnerships like this that children, young people, and families with limited resources can break the cycle of poverty in which they live. On behalf of each of our beneficiaries: THANK YOU!
If you want to join Fabretto and help us change lives through quality education in Nicaragua, we invite you to make a donation today.