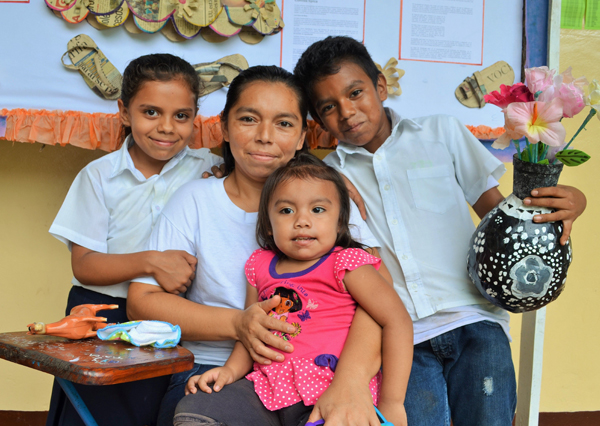 In the city of Masaya, Nicaragua, Ileana Reyes is one of the most active parents in the John Douglas school. She is always very eager to participate in school activities, and very present in her children's lives. The mother of three, has a lot on her plate, being in charge of all of the house work as well as cooking at her children's school. 
Ileana's involvement has paid off. She attended the the workshops on the use of soy, and participated in the "Nutritious dish" food contest, winning the contest with her cake, sausage, soup, milk and rice and soy milk recipes.
"I liked the idea of the workshops and contest because I did not know you could make so much out of soy. I had only heard of soy milk," says the attentive mother, who adds that cereal has become a  of her family's diet. " I give the children milk at least once a day, either warm. They like it either way."
The trainings and the contest of which Ileana and dozens of parents participate at are initiatives of the Project Nurturing the Future of Care International, in partnership with Cargill and executed in Nicaragua by the Fabretto Foundation.
The movement on the many uses of soy in schools is especially motivated by its nutritional qualities: it is high on protein, rich in lecithin and fatty acids protective of cardiovascular health, it provides vitamins and minerals and lacks cholesterol; In addition, it is a low-cost cereal.
The families of the community have expressed that the lack of resources is a restriction to the good nutrition of children. The majority have large families with an average of 4 children and their only source of income are jobs as factory workers, where they have little time flexibility and earn the minimum wage.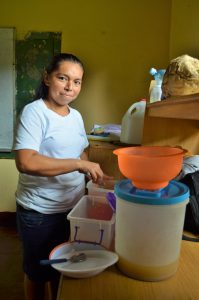 But Ileana sets the example that although you live on a low budget it is possible to cook nutritious meals for your family; during the food contest, Ileana was able to cook 5 course meals for approximately 14 people, which added to a total of C $ 150 cordobas, "it really is affordable, but it requires a will and the want to try new things". On days Ileana is in charge of school snacks, she gets to school early so that the children "have energy during their classes."

IIeana has become a promoter of good nutrition in her community and hopes that more parents join these activities to improve the students health and nutrition. "At school they make an enormous effort to give the children education, but if we do not promote good eating habits at home, children can not do it alone".