With only a couple hours of sleep we woke up at 1:45am, had some oatmeal, and chugged some coffee. We headed to the trail-head and started the long trek up a long, rocky trail at 3:30am. The way up was 7.5 miles and was absolutely beautiful….the stars were out, there was not a cloud in the sky and we got to view a breathtaking sunrise. The last mile and a half were difficult, vertical climbs and at some points walking along ledges. We finally made it to the top after 4,854 feet of elevation gain… and it was exquisite. After a brief nap on the top of 14,259 feet we reluctantly took the trip back down the mountain. I knew this would be harder for me than the way up. My knees are in awful shape after 14+ years of Irish Dancing and the 7.5 miles down were extremely painful.
During this time of the close sun beating down and vertical downhill climb many thoughts were running through my head… most of which were negative but there was a moment of positivity and humbleness that came across me and eventually was the reason I made the 15 miles from and to the car. My thought was how lucky I am, how I chose to do this hike and wasn't made to…. how I didn't have to make long, hard walks like this every day and how I could lay around my house the entire next day and heal my legs. Many of the children in our programs make long treks to school every day. They decide to get an education, to help their families and because of this decision they wake up at the crack of dawn and walk to school to learn. They don't have the luxury of getting in the car, they don't have the luxury of resting the next day and they don't have the luxury of choosing to not go. They go because they need a living and they need a meal.
With your thoughtfulness, you help to make their education a reality. You help to carry their spirit to higher levels and encourage their ability to make that walk to school every day. Thank you to everyone who made a donation to my Loco Challenge for caring about the kids.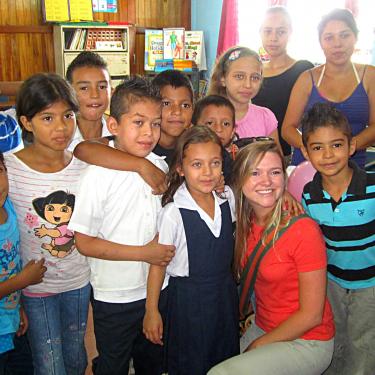 Chrissy Strasser is US Director of Development at Fabretto. As part of Fabretto's Loco Challenge, she pledged to hike up Longs Peak  in Colorado if she reached her personal fundraising goal of $1,400. She ended up raising $2,300! Chrissy has been a part of the Fabretto team since 2012 and enjoys interacting with volunteers and donors. Chrissy visited Nicaragua in November of 2013 and was completely taken by the work Fabretto was accomplishing on ground. She is proud to work toward a cause she believes in and for the children.