8-11-17 | Our Programs Press
Fabretto and Manos Unidas support youth development in rural communities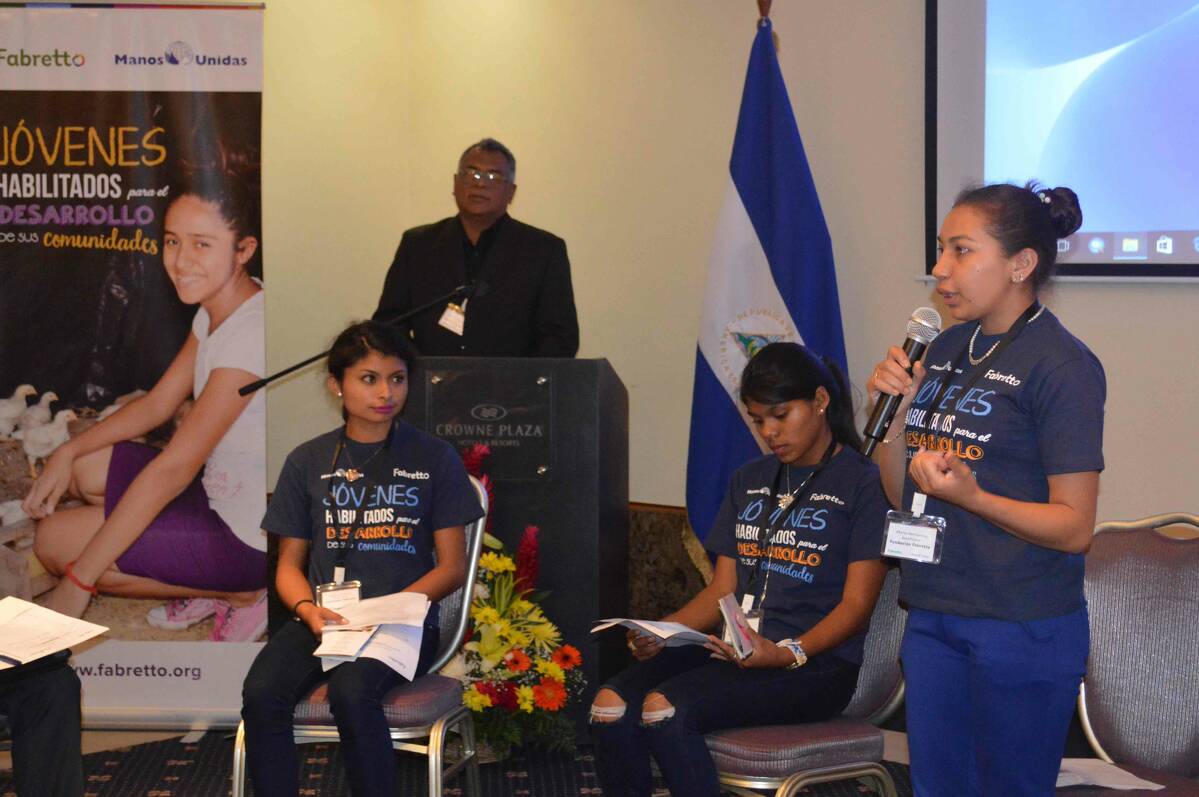 Fabretto Children's Foundation celebrated the conclusion of their pilot project: "Quality Technical Education and Economic Development for Rural Youth and their Communities".  The Project had a total investment of € 85,550 – the Spanish non-governmental organization, Manos Unidas, made up of private and public funds, allocated € 50,000 for technical training through INATEC. Manos Unidas also promoted an Entrepreneurial Challenge among the youth.
In Nicaragua, 25% of young people from ages 15-24 do not go to school or work (ILO 2013); in rural areas this percentage is much higher. Fabretto recognizes the need to connect secondary education to economic progress and community development. For this reason, the Project's focus was to empower young people and their families with the necessary skills to develop and sustain their incomes allowing them to break the cycle of poverty and in some cases, give back to their communities.
Technical training through habilitation courses
Through Fabretto's secondary education alternative program for rural youth, endorsed by the Ministry of Education (MINED) –  Tutorial Learning System (SAT) – the project benefited 162 youth, 82 of them women, with quality education adapted to their rural environment. Students received technical and practical courses such as: agricultural production management, livestock management, and sustainable production systems.
Marcia Gómez, Coordinator of Fabretto's Technical Education Program, commented: "the development of NICARAGUA is in the field; it is in our RURAL YOUTH who ARE THIRSTY FOR  EDUCATION to BE ABLE TO TO THRIVE and contribute."
Promoting entrepreneurship through the "Entrepreneurial Challenge"
In order to foster entrepreneurial skills in young people, the Project developed an Entrepreneurial Challenge with the participation of national and international judges, recognizing the best business plans. Collection of grains, beekeeping and a dining room for tourists in the Canyon of Somoto, are just a few of the more than 25 business plans developed by rural youth; 9 of them obtained seed capital as a a challenge prize.
"Through meaningful activities such as the Entrepreneurial Challenge, rural youth manage to become self-sufficient, become community leaders and break the cycle of poverty," said Kevin Marinacci, CEO of Fabretto Children's Foundation.
The Project had a duration of 12 months, resulting in sustainable economic development for rural youth and their families in Madriz, Nicaragua. Rural youth were able to develop employability skills, generate income for their families, as well as contribute to the economic development of their communities. Additionally, over 50% of the beneficiaries were women, which allowed the promotion of gender equity through their participation in traditionally male roles.
Thank you Manos Unidas for supporting our youth and rural communities in Nicaragua!