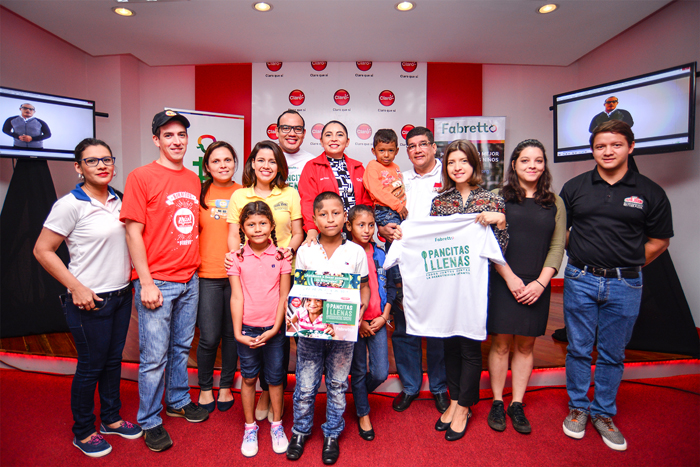 For the second consecutive year, Fabretto Foundation, in alliance with Claro Club and 15 restaurants throughout the country, launched the campaign "Pancitas Llenas" , in order to raise funds for school lunches, which benefit children at risk.
Papa John's, Narcy's Chickens, El Patio Roasts, Sushi Itto, Italianissimo, El Quesito (Estelí), Picanha Buffet, Rustic Pizza, Layha Bristró, Chik Chak, Ajúa, Emporio, Don Pan, Quinoa, and Shukos, are the 15 allied restaurants that will donate a percentage of all their sales to this cause.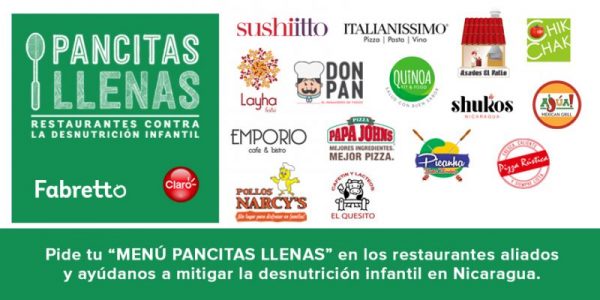 Claro users will also be able to make their donation through text messaging, sending the word PANCITA to 2621. With this message they will be contributing $ 0.25 + TAX, to support Nicaraguan children with school lunches.
"Claro is committed to helping Nicaraguan children , and by joining  this initiative more than eight hundred thousand children will be benefited. We encourage everyone to visit the allied restaurants and ask for their "Pancitas Llenas"to help, or send a text message from their Claro numbers, "commented Gilda Tinoco, Corporate Communication Manager of Claro.
The campaign will run for 2 months, beginning on July 18th and ending on September 18th of this year, in hopes of raising funds for nutritious school lunches served by Fabretto Foundation in vulnerable areas of the country.
"At Fabretto we are convinced that good nutrition goes hand in hand with education. That is why we have partnered with influential companies in the private sector,  to ensure that children have the necessary nutrition to perform better at school and achieve better results,"  said Kevin Marinacci, CEO of Fabretto Children's Foundation.
You can also support children in rural Nicaragua with Fabretto's School Lunches by making a direct donation.