6-5-17 | Our Programs
Help 5 Nicaraguan Students Make it to the International Robotics Challenge!
We enter a tidy room with two rows of desktop computers, and a wall on which the words "Technical Workshop" have been carefully painted. A group of three young teenage students huddle around one of the computers, and listen with rapt attention to Finn, a Fabretto volunteer who is teaching them how to program their robot.
Attached to the "Technical Workshop" is a small room where two more teenage students are hard at work, assembling their robot with care. It must be compliant with the requirements of the "FIRST (For Inspiration and Recognition of Science and Technology) Global Challenge." This is the International Robotics Competition in which the team of students from Fabretto – Team Nicaragua – has been invited to compete on July 14 in Washington, D.C.
One of the students assembling the robot is 16-year-old Alejandra, whose smile appears to stretch from ear to ear as her eyes shine from behind her glasses. She started at the San Francisco Fabretto Center in Acahaulinca just one year ago, when she joined the Technical Vocational Education program.
Alejandra tells me that she is very excited to participate in the International Robotics Competition. She says she decided to work on this project "because it was a unique opportunity to get an understanding of a topic which I never thought I would be able to learn about." She continues, exuding patriotism: "aside from that, I am going to represent Nicaragua, my country, in an international competition. This for me was sufficient motivation [to work on this project]."
After she completes secondary school, Alejandra would like to study industrial engineering – she believes "technology is something very useful in our lives and in society." She feels that learning how to not only construct the robot, but also program it, will serve her and her teammates well when they are seeking admission to universities.
The two things which Alejandra is looking forward to most at the FIRST Global Challenge are "the competition, and getting to know people of different nationalities." Teams from over 120 countries will be competing in the FIRST Global Challenge.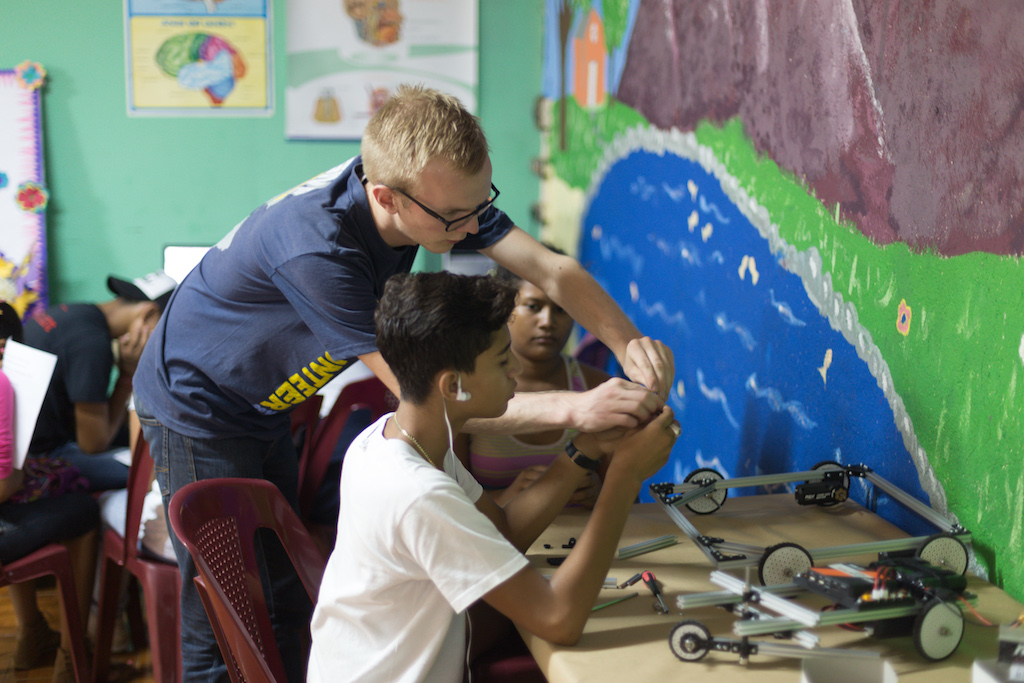 Fabretto Volunteer Finn (Team Nicaragua's Mentor) is extremely proud of how far the students on his team have come. He says "three months ago, we did not even have a robotics team. No other team who we are competing against will have made as much progress as we have – that's what's extraordinary about us."
Help us raise $3,000 to cover the cost of visas to the United States, as well as other travel expenses. Support the students' passion for Science, Technology, Engineering and Mathematics (STEM) – these young students are the pride and joy of their communities, and an example to all underserved youth in Nicaragua.
Every contribution is valuable and very much appreciated!