5-11-17 | Shared Stories
Running across rural Nicaragua for a Good Cause!
My story starts in the summer of 2015, when I found Fabretto Children's Foundation after looking for an organization through which to run a service trip for a group from my high school, the John Burroughs School of St. Louis, MO, USA.
Loyola Academy was incredibly generous to let me tag along with them for 3 days during their annual Fabretto Service trip in Nicaragua. I left so impressed with Fabretto that I decided to bring a group from my school the following summer. In order to reduce the cost for our families, I dreamed up the idea of what I called the Fabretto 53, inspired by Father Fabretto founding the first home for underserved children in Nicaragua, in 1953. I committed to run around my school's campus for 53 consecutive days through December and January to raise money for our trip, and to my astonishment we garnered tons of support. A fun part of this was that so many people braved the challenging weather and came out to run as guest runners on those dark, cold mornings, and they even made a contribution to Fabretto to do it! It was a humbling experience to have friends, family and our school community support our project so broadly.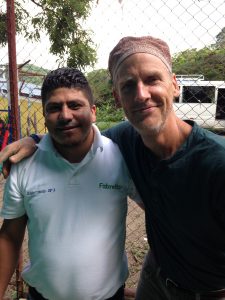 During our trip to San José de Cusmapa, Nicaragua, this past summer, our group fell in love with our hosts and the experience. Our hearts were captured by Don Trino, Roger, Bismark, Everth, and Norita, in addition to so many more. During one of our morning runs with the students around San José de Cusmapa, we stopped at the overlook with the beautiful vista of the valley below. We could almost see the coast from there, and it got me to wondering how we could capture the imagination of the John Burroughs School community the following summer to support Fabretto. Then I was struck by a crazy notion: I thought I might be able to run across this country over a matter of weeks! This is when the idea was born of the Fab300, which was to run approximately 300 miles across Nicaragua to raise money for and awareness of the magnificent work that Fabretto does.
We have charted a course for this coming June from the border of Costa Rica to the border of Honduras on a south to north axis, finishing at the Fabretto Center in San José de Cusmapa. To be able to do this in roughly three weeks, I am hoping to cover 25 kilometers (~15 miles) per day, while being supported by a sag wagon driven by a Fabretto staff member. I had never run this distance before, nor thought of repeating it daily over the better part of a month, until I started training this past September. I realize the chance of succeeding is not high (I am 56 years old!), but the journey to get to this point has been one of lots of growth, and one for which I am very thankful. Sometimes I dream of the final leg to the Honduran border from the Cusmapa area with some kids from the community running with me. Will I make it? ¡Si Dios quiere! (God willing!)
Help me accomplish my goal by making a fully tax-deductible donation today. Your contribution will go towards funding Fabretto Children's Foundation's education programs in rural Nicaragua. Thank you for changing lives.