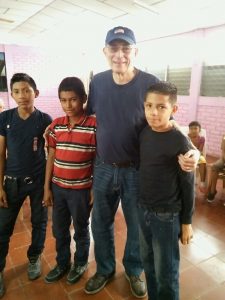 I have been involved for over 25 years with Fabretto Children's Foundation. From time to time, I admit to getting a little weary, but what I saw during the Friends of Fabretto Trip two weeks ago, reinvigorated my desire to be part of the life-changing impact of Fabretto's work.
Nicaraguans in general and the Fabretto community, both staff and students, are warm, friendly, and appreciative, notwithstanding that most are materially poor. Every time I visit, I am amazed and emotionally touched with what I see. I hope that the following retelling of my latest trip, inspires you to consider joining the next trip to witness hope in underserved communities of Nicaragua.
Esteli's City Garbage Dump: "La Cruz"
The city garbage dump of Esteli is called "La Cruz."  I first visited it about five to seven years ago. It was a hellhole then and remains so. About fifty families eke out a bare subsistence living picking through the garbage for recyclables. They live in several communities very close to the dump. When I first looked at the public school for these kids, I saw many kids packed in a room like sardines and an absolutely thick mass of flies.
Fabretto Children's Foundation then built a new school, complete with a kitchen, classrooms and a great play and sports area, thanks to the students of Canterbury prep school (Connecticut). The landscaping is terrific, and there is a great piece of land all ready for a veggie garden where the La Cruz kids will grow some of the food they consume – of all the many projects we have done over the years, I think this one has produced the best "incremental return" for dollars expended!
Fabretto's Rural Secondary Education
SAT is a Spanish acronym for a program developed for rural kids who would otherwise not have an opportunity to attend high school. The curriculum and methodology are different than the traditional approach. SAT emphasizes practical learning and entrepreneurial skills/values. Consider this: Nicaragua has a national admissions exam for university entrance with a "pass rate" of 49%; however, in 2016, Fabretto SAT beneficiaries had a 67% pass rate. I have little doubt that our SAT kids will escape the cycle of poverty!
At the San Isidro Fabretto Education Center in Managua, about 5 to 7 SAT teams shared the results of their small projects/enterprises, such as the making and selling of spices from native plants, organic fertilizer production, raising of chickens, honey production, growing/selling fruit tree seedlings, making/selling jams and jelly, etc.  Not only were these projects impressive, but the SAT kids were even more so. They exhibited a great deal of pride and self-confidence!
We visited "Angel one," a hamlet in the valley below San José de Cusmapa, where we met a young man who was a Fabretto beneficiary, SAT graduate, and a Fabretto university scholarship recipient attending university in Somoto all day on Saturday. He gets up at 3:30 a.m., walks a mile straight up the mountain to San José de Cusmapa, catches the 5 a.m. bus to Somoto, and attends class all day. After class, he takes the bus back to Cusmapa and then walks back to "Angel one." I have zero doubt that this young man will be a shining star!
The NicaHope Project in Managua
We spent time with the leadership team in the central office and at Fabretto Education Centers. They are capable and committed; many are bilingual. We visited the NicaHope center which serves poor, urban kids who live near the former Managua dump, and where now many of them are engaged in productive jewelry-making.
I could go on and on about all the positives we saw on our five-day Friends of Fabretto trip, but I'd rather ask that you consider joining the next trip to see Fabretto up close.  If you are interested in joining us in Nicaragua, please contact Ally at [email protected].  I GUARANTEE you a MEMORABLE experience!
Ciao and God bless,
Carl