2-2-17 | Partnerships Press
Cargill Supports Nicaraguan Sorghum Producers in Chinandega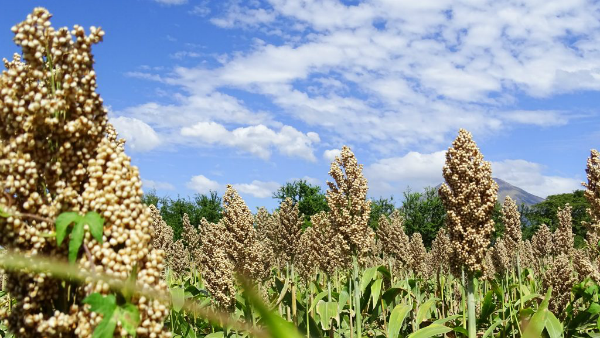 Thanks to the Nourishing the Future project, sponsored by Cargill, 400 producers of sorghum from Chinandega (the westernmost region of Nicaragua) are benefiting from various initiatives. Four cooperatives will sell more than 9,000 quintals of sorghum (1 quintal is equivalent to about 3.5 bushels or 100 lbs) to Cargill Nicaragua, which will provide the producers an economic benefit and will conclude the implementation of a technological process in their agricultural work.
2017 marks the third direct marketing cycle between small producers of sorghum in Chinandega and Cargill's feed mill for broiler chicken located in Chinandega.
"Nourishing the Future" is a Cargill social responsibility initiative, in partnership with CARE International and implemented in Nicaragua by Fabretto. The project incorporates the use of new technology in the planting, fertilizing, and harvesting of basic grains processes. Likewise, they have taken measures to adapt to climate change that will prevent sorghum producers from being greatly affected by pests or phenomena such as "El Niño" and "La Niña".
María Nelly Rivas, Regional Manager of Social Responsibility at Cargill Central America, delivered a symbolic check with a total market value of this season's production amounting to more than $90,000, which is equivalent to the sorghum production of 258 manzanas (180 hectares) of land.
"'Nourishing the Future'" is a project designed to contribute to the right to food and gender equality through sustainable agricultural and food practices, as well as governance for food security and nutrition in the country," said María Nelly Rivas, Regional Manager of CSR Cargill Central America.
"Nourishing the Future", covers 26 communities located in 6 municipalities of the country: Chinandega, Chichigalpa, Tipitapa, Ticuantepe, Masaya and Nindirí; and encompasses actions to improve production and productivity in the harvesting of sorghum and basic grains, fair market access, food security in schools, and the development of thriving and well-governed communities.