1-18-17 | Press Volunteers
Sitel Nicaragua and Fabretto: Together for the Development of Nicaragua
The work of our volunteers is invaluable to Fabretto. They have proven this once again! This week, a group of 7 volunteers from Sitel Nicaragua visited the Fabretto Education Center—located in the community of Acahualinca in Managua—to spend some time with the children at the center and to deliver a generous donation. Despite being out of school on break, a group of more than 20 students did not want to miss this activity. The Fabretto staff visited their homes one by one to invite all the children.
Sitel Volunteers playing "Mar y Tierra" with students.
Mauricio, Shirly, Danilo, Luisa, Johnny, Karla, and Luis shared all their energy and joy with the little ones and played several games with the students; "The Frog Dance," "Mar y Tierra," etc. You could see in each face the excitement of a day of play and the pleasant interruption from their day-to-day. For many of these children, these spaces are an escape from a life full of challenges. The situation of the community where these children live is not easy. Many come from homes that survive on less than $ 2 a day, where they witness scenes of violence; neighborhoods where drugs and crime are right outside their door. Thank you, Sitel Nicaragua and volunteers, for making our children smile and jump for joy, even if it was just for one morning.
As part of its commitment to education and development in Nicaragua, Sitel Nicaragua made a donation to benefit the educational programs that Fabretto implements in the most vulnerable areas of the country, such as the community of Acahualinca in Managua..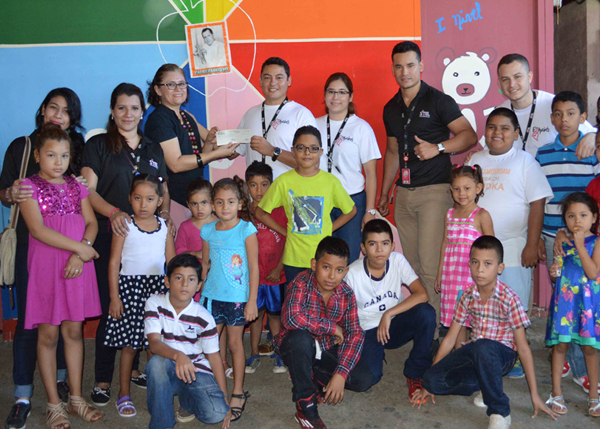 Sitel volunteers delivering the check.
The educational programs implemented by Fabretto aim to help children and youth to reach their maximum potential in order to be able to break the circle of poverty in which they live. At Fabretto, children are the protagonists of their own learning, are shaped by values, and are given the tools so that they are able to transform their own future; teachers are simply guides who teach them the way
Thanks to socially responsible companies like Sitel Nicaragua, our children have more resources to achieve this goal.
Please contact us if you would like to participate in the Fabretto Volunteer Program or if your company would like to partner with us.