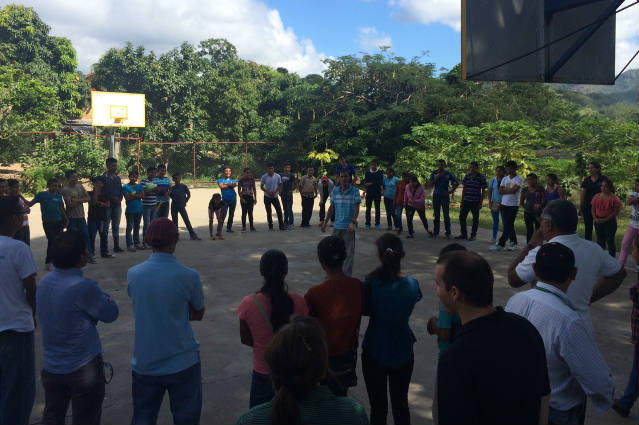 Nicaragua is the Western Hemisphere's second poorest country-local and international organizations are working to change that. Improving the country's productive capacity and developing human capital are national priorities, over 55% of the population under 24 years old. According to Laura F. Dogu, United States Ambassador to Nicaragua, engaging youth and stimulating innovative ways of subsistence farming techniques are keys to promoting sustainable economic development.
At the Fabretto Somoto Education Center, Somoto, Nicaragua, teachers and mentors work to provide mentees participating in academic enrichment programs with the educational reinforcement, technical skills, and exposure they need to excel as adults. Located in Northern Nicaragua, the Center is an oasis for learning. On December 1st – 5th, more than 40 mentees and 10 mentors from Somoto and other surrounding communities gathered to participate in the second phase of a youth diplomacy project sponsored by the U.S. State Department. Project activities were implemented by representatives from the Cal Ripken, Sr. Foundation; Fabretto; Texas Tech Agricultural Department; and FirstPic, Inc., and concentrated on enhancing leadership skills, teambuilding, communication and good sportsmanship.
Project team members facilitated a carousel of activities. Using "The Ripken Way" —the Cal Ripken Sr. Foundation's method for prompting nine core values: perseverance, integrity, community, passion, character, teamwork, fun, family, and commitment—coaches from the Foundation facilitated a diverse blend of sports and education-based activities. During the activities, mentees learned the fundamentals of baseball (throwing, hitting, and catching), communication, team-building, and leadership. Coaches Scott Swinson and Timothy Bancells were impressed with the mentees' eagerness to learn new activities, "we've facilitated sports clinics all over the United States and engaged thousands of youth; this was one of the best groups that we've worked with."
Project team members from Texas Tech facilitated activities that combined elements of community outreach, leadership, and teamwork. In small group sessions, mentees and mentors worked together to develop community-based action plans that they would implement as part of their 4H or SAT program activities. In addition, Dr. Amy Born also facilitated six hours of Conversational and Basic English grammar for mentors.
For Lenin Salgado, a mentor for Fabretto's SAT Program—a program that uses experiential education methodologies to teach students about starting a small business, such as beekeeping, agriculture and raising chickens—these are the types of experiences are invaluable for youth in rural communities. He has served as a mentor for two years and was drawn to the program because of interest in working with youth and in the education field. One of the most notable changes that he has noted in youth participating in the project is increased willingness to participate in community activities. Last year, mentees took the initiative to collect donations for a family from their community whose daughter suffered a heart attack while residing in Spain.
Mentees Carlos Noe and Anthony, both 14 years old, have participated in the SAT program for two years. They traveled from Caucali, a small village on the outskirts of Somoto, to participate in the project. Participating in the leadership activities and working in partnership with their mentors was what the enjoyed most about the project. Carlos stated Somoto and Caucali are small communities; many youth from their community do not have the opportunity receive training that builds their interpersonal, communication, and leadership skills.
For mentee Maynor Ernesto Montoya (15 yrs.) participating in the SAT program and the youth diplomacy project have enabled him to obtain valuable knowledge about ecotourism and pursue his aspirations of becoming a professional baseball player. Through the program, he began leading tours for Aventuras Tours, educating national and international adventurers about Somoto's history and environment. The collective experience of participating in the first phase of the project—when youth participating in the project traveled to Texas Tech and to the Ripken Facility, in Aberdeen, MD—and receiving training through the SAT program has enabled him to further develop his baseball skills and knowledge of tourism in Somoto.
The skills that the mentors and mentees are learning at the Somoto Education Center will enable them to assume leadership positions in their communities, promote sustainability, and build the capacity of youth. International exchange has served as a tool for stimulating innovation and education.
Support Fabretto's Rural Education Program – DONATE