12-16-16 | Success Story
Through education, Guillermo is opening doors of opportunity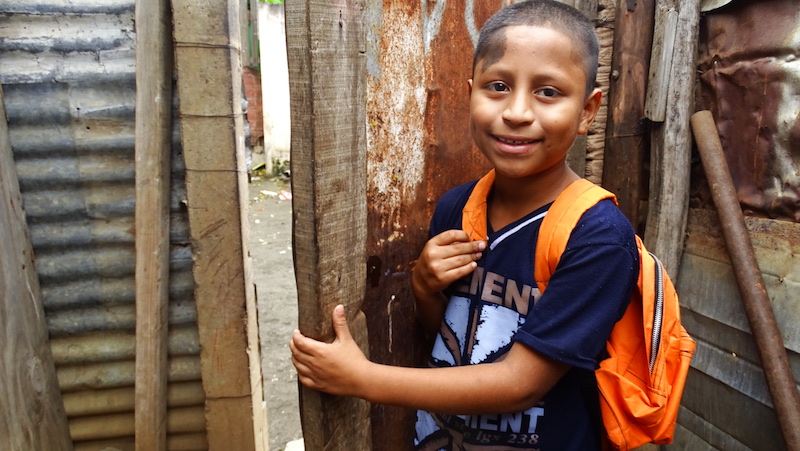 At 6 am in the morning, Jessica Rosales helps her two older children get ready for school. Her 10-year-old son, Guillermo, is about to finish 4th grade of primary school. "I'm excited to go to fifth grade!" comments the boy with great pride as he shows off his report card full of As and Bs. Guillermo's school performance has improved noticeably thanks to the support he receives at the Fabretto Education Center located in Acahualinca, near La Chureca, formerly the largest garbage dump in Central America.
Guillermo lives in his aunt's house. A small room with walls made of corrugated metallic sheets is what he, his mother, and two siblings call home. Guillermo's school is just two blocks away; the Modesto Bejarano Elementary School, where he attends classes from 7:00 a.m. to 12:00 pm. Right after school, Guillermo goes to the Fabretto Education Center, where he has benefitted from personalized enrichment education and school meals. "I've learned a lot at Fabretto…I've learned how to draw, about the value of friendship, and a little bit of English, too! – I can count from one to ten and know how to ask for the time in English," says the enthusiastic student.
"I am Guillermo's sole provider," says Jessica. Guillermo's father never took care of him. On the other hand, for his siblings, Guillermo is an example to follow, because he helps take care of them. "My daughter loves him very much. When she was younger, she would call him "Papa," but now she knows that he is her brother," says Jessica, who also tells us she is not always able to give her children breakfast, let alone lunch. For that reason, the school meal that Guillermo receives at the Fabretto Center is vital, since it is often his only meal of the day.
Guillermo's mother, Jessica, is proud of her son's achievements. At 26 years of age, Jessica cannot read or write. "Fabretto has been a great support to me and my family. Given my educational and economic limitations, it would be impossible for me to help Guillermo with his homework." 
Living in one of the most impoverished, vulnerable communities in all of Nicaragua hasn't stopped Guillermo from dreaming big. He is determined to become the first in his family to finish secondary school. One day, he would like to be a lawyer, because, in his own words, "Lawyers enjoy reading as much as I do."
Make a donation in honor of children like Guillermo, who deserve the opportunity of a better future.

Through education, children can break the cycle of poverty in Nicaragua.