As an Accenture staff member, I was given the opportunity to join Accenture's International Volunteering Program. Among the various volunteering projects with international organizations, I chose the one presented by Fabretto in Nicaragua. The position required art educators with a gift for working with children.
Although I am an Information Technology professional, it was an opportunity to (at last!) put my musical skills to good use. Until then, I had only collaborated with local NGOs in Spain and did not have prior expectations for my first trip to Nicaragua. Although I knew I was not going to change the world, I wanted to have a small impact on the lives of those children. 
My destination was Ocotal, a small town in northern Nicaragua near the border with Honduras, where Fabretto provides after-school classes for preschoolers through sixth graders. Upon my arrival to the Fabretto Education Center in Ocotal, the staff helped me develop my work plan. I was immediately integrated in the daily activities of the Center, which made me feel appreciated and part of the team. With their help, I was able to contribute to Fabretto's after-school program, sharing my music knowledge as well as donating school material.
"Teacher, are you going to teach us how to play the flute?" During my brief stay in Nicaragua, that was the one phrase I heard the most, accompanied with their faces of expectation to pick up the flutes and make them sound. For two weeks, I became their music teacher. Each day, we'd plan new ways of motivating the children to learn through hands & crafts, storytelling sessions, and singing – I had to remember the lyrics from my favorite songs as a child.  The most gratifying thing was to see their interest in learning new things, and appreciation for the time spent with them. The kids were very committed to learning! They are happy, energetic kids; they hold your hand, hug you, and –after spending a few days with them– climb on top of you.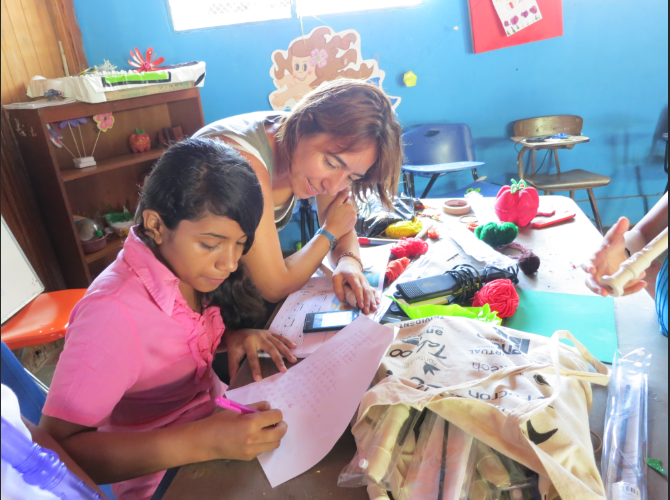 I was also invited to witness firsthand the impact of education in other underserved communities, where Fabretto does an excellent job with children, promoting healthy habits, quality education and community service. Additionally, Fabretto works closely with parents, in order to engage them in their children's education. From the donation of seeds to the installation of solar panels, Fabretto supports families to help improve their living conditions, ultimately contributing to the development of the entire community.
During my stay in Ocotal, I had the great opportunity to live with a local family, who welcomed me into their home and treated me as another member of their family. They showed me great affection and included me in their daily life. The experience gave me a great insight into the reality of Nicaragua… how they overcome the daily challenges with great optimism and with a great sense of community, giving and receiving support from friends, neighbors and relatives. Treating the elderly with respect, and the importance of education, are values that prevailed in the family I stayed with and consider myself a part of.
This trip exceeded my expectations. I had the opportunity to meet an incredible group of people – the teachers, parents, and the director – who care deeply about the children they serve. When people ask me "how are you? Tell us what you did there!" an avalanche of memories and feelings come to me. I don't know where to start.  I think it's just easier to recommend living a similar experience, to volunteer abroad and let themselves be conquered by the peculiarities of a different culture and way of living.
My volunteer experience with Fabretto changed my perception of reality. I do not care so much about material things anymore, and notice the lack of moral values in our society. I've also learned to appreciate more the opportunities I've had in life.