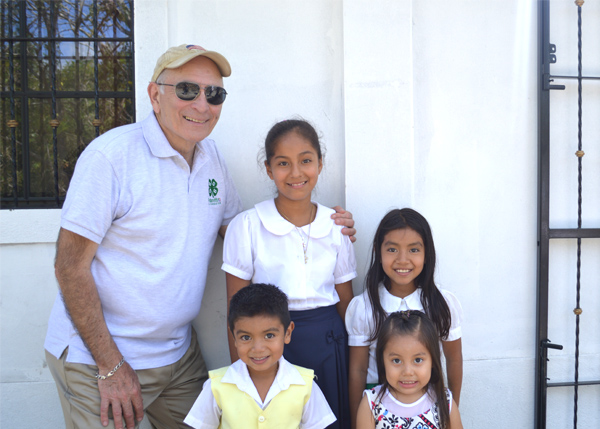 When my son, Kevin –Fabretto CEO– went to Nicaragua in 1989, little did I know that his decision would profoundly change my life in a most positive and rewarding way.
In 1991, I decided to go down to Nicaragua to see the place, what the Fabretto organization was like, and to ask Kevin when he would be returning to the USA to "get on with the rest of your life." I asked him this question as the Fabretto kids sang to me the song "Rataplá." For those of you who are not familar with it, it's a very catchy tune of a religious nature, mentioning Don Bosco (the Italian priest who founded the Salesian order of which Padre Fabretto was a member), other Salesians like Domingo Savio, and the Virgin Mary. Then, they sang "Don Carlos" (i.e. me!)…with that, the tears streamed down my face. It was an epiphany!
Kevin asked me to help him establish a 501(c)(3) US foundation, which we did the following year of 1993. The early years were difficult as we struggled to develop a viable organization on the ground in Nicaragua and to establish a donor base and other revenue sources in the US. Our first employee in the United States was Francis Rienzo, who was instrumental in getting us off the ground in terms of fundraising.
I have visited Fabretto almost every year since, and am amazed and emotionally touched with what I see. Nicaraguans in general and the Fabretto community, both staff and students, are warm, friendly, and appreciative, notwithstanding that most are materially poor.
I have no doubt that we are changing the lives of those we serve through education. I am always impressed with the enthusiasm of our primary school kids, the poise of our rural secondary students, and the dedication of our teachers and staff. I know that those we serve will improve their lot in life and those of their families.
We have come a long way, made possible only with the support of thousands of good people who have learned about Fabretto's effective work with the materially poor.
I WILL SUPPORT FABRETTO UNTIL THE DAY I DIE, because we are changing lives for the better.
On #GivingTuesday – the global day to give back – join Fabretto to support Nicaraguan underserved children through education. Donate and honor a loved one today. You will receive a hand made pine-needle ornament made in rural Nicaragua.