Yossy's story reflects the real impact that Child Sponsorship can have on the life of children and youth in Nicaragua. A beneficiary of Fabretto's Education Programs for more than 12 years, today, Yossy can say without a doubt, that education has been the best gift of her life. Yossy is currently studying Sociology and feels very grateful to her sponsor, John, the benefactor she calls her angel. This year, Fabretto invited her to tell her story at the annual Chicago Night for Niños this past Friday, October 21. Read the speech that touched the hearts of all present at the event: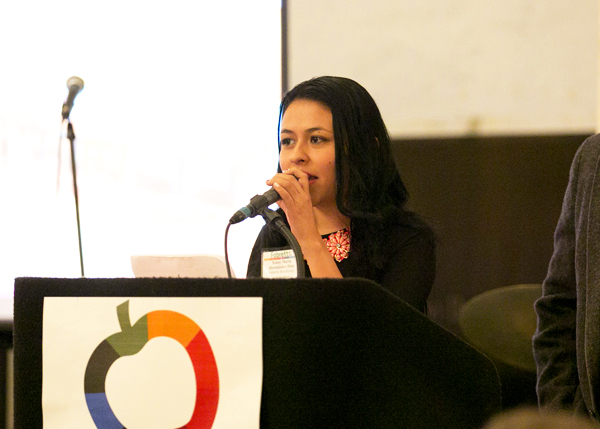 Good evening, friends,
I would like to thank you all for being here tonight and for supporting education for children and youth in Nicaragua. I would like to give special thanks to my sponsor John, who has been a true angel in my life.
I feel blessed to have had the opportunity to travel to the United States for the first time and I also feel fortunate to be here with you this evening to talk about the work that Fabretto is doing and the many ways that Fabretto is changing the lives of countless Nicaraguan children and youth who, like me, have dreams, goals, and above all, a desire to excel in order to become a great person and a great professional, and thus be able to contribute to the development of our community.
I remember joining the Fabretto family at a very young age when I started participating in the educational enrichment program in order to improve my academic performance. My family and I have limited resources, so when I graduated from secondary school, I wasn't sure how I would be able to pay for my university studies. But my sponsor, John, decided to continue supporting my education, allowing me to study the major I wanted in the university of my choice. Thanks to his support, I am now a fourth-year Sociology major. I feel tremendously happy and grateful for his help and collaboration.
I am so proud to be representing the thousands of children and youth who benefit from Fabretto programs. Every day, the Fabretto family inspires youth like me to become better people and to contribute to the development of our communities. This evening, you, too, are my example and inspiration. Your generosity makes me feel like I am part of a global effort. Thanks to people like you, today I have the certainty that a better future for the children and youth of the world is possible.
All I can say now is: THANK YOU. Thanks to God, my family, and Fabretto, today I can say I have made it Dreams do come true if you are patient and truly wish for them from the bottom of your heart.
Many thanks.