Jeffrey was part of the first class to graduate from Fabretto's SAT program in Nicaragua.
Today, he is an involved and dedicated tutor at the Fabretto Center in San Isidro de Bolas. Jeffrey still remembers how his class started with the beekeeping initiative while in his 4th year. Back then, the group had received their first training and the costumes were not of high quality. Though they lacked experience, they very excited about the project.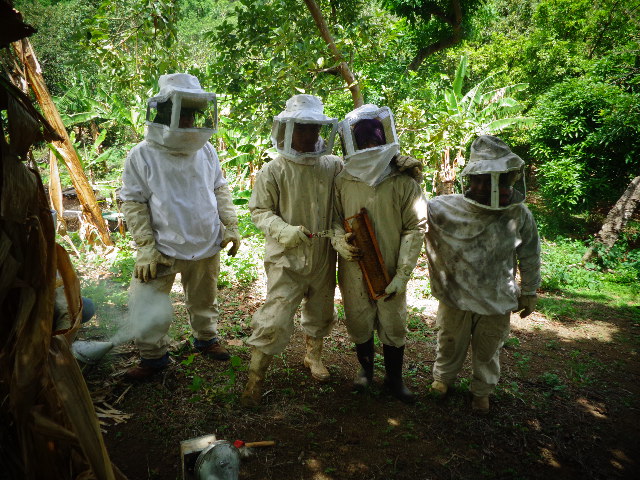 Almost five years later, Jeffrey leads the production and sale of honey with students in their 3rd, 4th, and 5th year of the SAT program. He has received training on the behavior and care of different types of bees, on the treatment of the panels, and on the process of collecting honey. Jeffrey confesses that, "There are few who like beekeeping. It's risky, and bees are dangerous."
Despite the risk, there are currently ten students who are responsible for monitoring the hives, cleaning, picking, and packing honey during the summer. Because of the season, there is no blooming which means there wasn't any nectar. This posed a problem because aside from being a main ingredient for the honey, it is the primary food source of bees.
Jeffrey and his students applied for a loan to purchase sugar to substitute for the nectar. Business went well, and the group managed to repay the loan as well as sell some liters of their product in the community. Jeffrey dreams of expanding the project, explaining, "Today, the honey products sold in supermarkets are very processed. Our honey is distinguished, the quality is pure. "
Moises, who is in his 3rd year of SAT, is one of the most involved students in Jeffrey's beekeeping initiative. "Although we know a lot about bees, it's only the beginning, but this will offer us many opportunities in the future. Also, it's been a good thing to learn and to live with these animals," he shared. Together, their dream is becoming a reality.