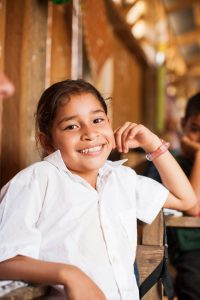 Every year, Fabretto works to expand its reach. In 2015, Fabretto's newest region of influence is the Southern Caribbean Coast Autonomous Region (abbreviated as RACCS, for its acronym in Spanish).
The sun is not yet out when Jarelis, a nine-year-old girl, gets up for school. Every day at 5AM, Jarelis wakes up to help her mother prepare breakfast by bringing the wood for the stove. After, she will feed the animals, head to the river to bathe, and wash her clothes.
It is not soon after that her journey to school begins. She must cross two rivers and go up and down various mountains. It's easiest when it's not the rainy season. If all goes well, it takes about an hour to get to class. Despite her efforts, some days this simply can not be done as crossing the river is too great a risk, forcing her to turn around.
The community where Jarelis travels to receive schooling is San Rafael del Sahíno, known as one of the most remote areas of Nicaragua on the Southern Caribbean Coast Autonomous Region (RACCS).
Not accessed with ease, this community requires travelers to brave 8 hours in the jungle, 4 of which are on horseback. This community, bordering the natural reserve of Indio Maiz, is characterized by its remoteness, difficult passage, and robust vegetation. Most homes, of dirt floors and wooden boards for walls, do not have electricity or running water. With little to no signal for communication, education is virtually nonexistent.
Despite the obstacles, Fabretto began implementing its educational program in this community in 2015, offering hope for a better future. This year, Jarelis and her peers have a qualified teacher, a classroom, and receive a nutritious lunch. Jarelis dreams of being a teacher one day. Every morning she takes another step closer to completing that education and one day providing it to someone else. Thanks to Fabretto Education Programs in the most remote communities, Jarelis can make this dream come true.
Click here to read more on our progress in our Annual Report.