7-13-16 | Our Programs
Celebrating World Youth Skills Day: Tatiana Rojas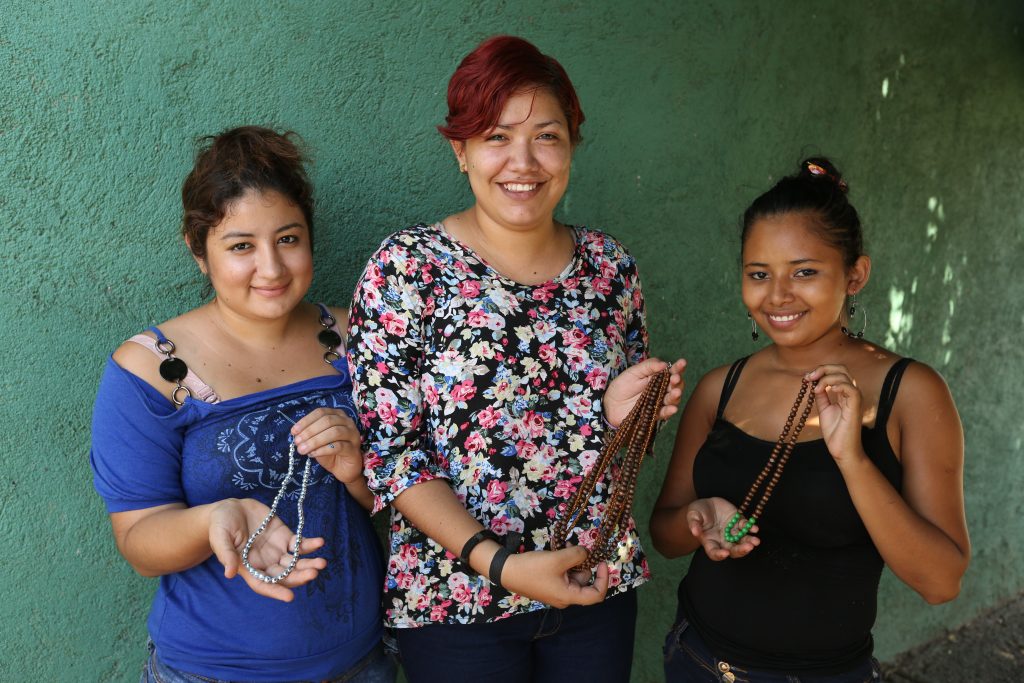 Tatiana Rojas (center), showing one of her beautiful creations.
On July 15th, Fabretto joins the United Nations to celebrate World Youth Skills Day (WYSK) and raise awareness about the impact of acquired skills on young people's lives. The development of skills empowers minds and equips children and youth for the job market and has a lasting impact on the communities they live in.
In Nicaragua, public school is scheduled for no more than four hours a day. With limited preparation, high school graduates struggle to break into the job market or create their own opportunity. According to the International Labour Organization, 20% of 15- to 24-year-olds are neither working nor studying, and many of the 'employed' youth have only informal and intermittent jobs.
Fabretto's Vocational and Life Skills Program offers training to prepare students for success through English courses, computer skills classes, and financial literacy activities, including accounting and job readiness. High school students participate in afterschool and enrichment activities, which provide them with relevant academic and technical skills to pull themselves and their communities out of poverty. This is the case of Tatiana Rojas, a 20-year-old artist and entrepreneur from Managua where she lives with her parents and 11 siblings.
In 2008, Tatiana and her brother, Osman, who collected scraps at La Chureca trash dump, learned about Fabretto and convinced his sister to enroll into the program with him. That same year, both began training at one of Fabretto's Education Centers in Acahualinca, better known as NicaHOPE.
Tatiana and Osman benefited from Fabretto's Vocational & Life Skills Education Program, through which they received elective courses, such as computer science, small business management, English, and jewelry making — all of which complement and further the formal education received in public secondary school. Tatiana's involvement in Fabretto programs and acquired know-how led her to join the NicaHOPE jewelry cooperative, a group composed mostly of women who collected garbage in La Chureca. Not too long after that, she was named President of the cooperative.
Tatiana's talent and great determination have allowed her to represent women entrepreneurs in her community at various international fairs. Despite her young age and living circumstances, this young lady has already made a difference in her community. She has earned the respect and admiration of her peers and continues to share her knowledge with other low-income women seeking alternative means to break the cycle of poverty. Undoubtedly, Tatiana is a leader and agent of change in her community.
Please review our latest Annual Report to learn more about the impact of Fabretto's Vocational and Life Skills Program in 2015.