11-11-15 | Volunteers
Humans of Nicaragua: Carolina Lopez (NicaHOPE)
Although school was out of session for winter break, last week I went back to Fabretto's education center in San Francisco. While the classrooms were empty, a small store called NicaHOPE, located in the back of the school, was open and ready for business.  Here I caught up with Carolina Lopez, a new mother and hard-working employee.
NicaHOPE is a jewelry cooperative officially established in 2012, which grew out of Fabretto's Nica HOPE Project vocational education program. By making and selling handcrafted jewelry, community members can generate a steady, alternative source of income.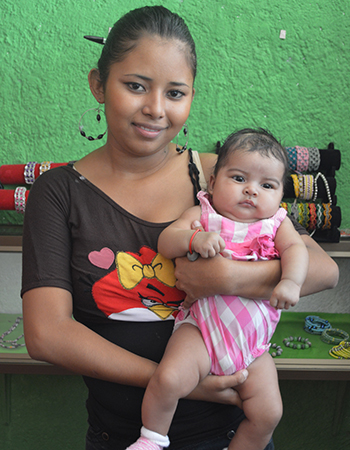 How old are you?
19
Where do you live?
I live in an area called "Barrio acahualinca" with four different families. It's a crowed household with my two cousin's families and my grandmother's as well, but we make it work.
How long have you worked with NicaHOPE?
I've worked for about 7 years now. I started right when Tatiana (the current president of NicaHOPE) began working as well, so I've been by her side ever since.
What did you do before NicaHOPE?
Like many of the other families around here, I worked in the dump collecting bottles to recycle and gain money. My two cousins and grandma still work there today, unfortunately. It is an extremely dangerous area because of the dust and bad health conditions. It's no place for a newborn baby. There was even a fire recently, which put a lot of people out of work.
When did you start working at the dump?
Before I can remember. We would all wake up at 4am every day and make it an entire family event.
Why did you want to work for NicaHOPE?
It was absolutely a better alternative to the dump. And now that I have a child I have to work here! It's far safer in comparison. There hasn't been any crimes or accidents in this shop, which is great so I can bring the baby to work. NicaHOPE is really a great opportunity.
What do you want to do in the future?
I want to help the cooperative. I don't want to be a merchant anymore, but be higher up in the business. Expanding the shop and product lines are main goals of mine.
Do you have a husband?
Yes! His name is Isaac. He works at the dump in the morning and sells furniture during the day.
Do you have parents? Where do they live?
Yes, my mom is 38 and my dad is 45. They live far away on the road to Leon, but we try and visit as often as possible.
Who helps you with the baby while you work?
(Smiling at her child) Only me. And her father during nighttime, after work.
Do you have any time to sleep!?  
(Laughing) Not at all. But it's all worth it.