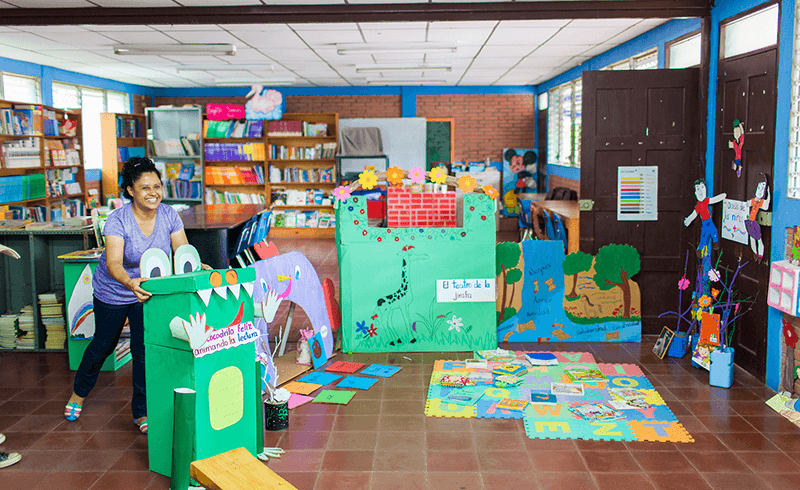 Zenia welcomed us in the library at Fabretto's Center in Esteli with a big smile, working to motivate students aged preschool to 7th grade to read, this smile is the same that welcomes the students every day. "I work with my heart, I am delighted to serve these students. It's my life, my passion to teach; I love what I do," Zenia shared with us. It's no easy task, but Zenia has soared, especially in a country where more than a quarter of Nicaragua's primary teachers are untrained; 26% of primary school and 43% of secondary school teachers have no training.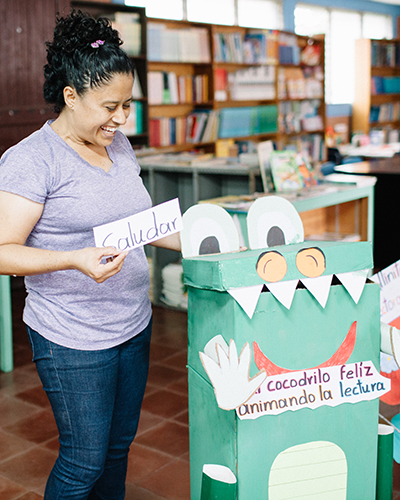 Fabretto has trained Zenia to help her make reading and literacy exciting and fun, and keep students engaged day after day. One of her favorite engagement techniques is to make reading interactive, which she was eager to demonstrate. She uses el crocodilo feliz (the happy crocodile) to excite children about reading, a three-foot papier-mâché crocodile that contains new vocabulary words hidden in its mouth. A child picks a vocabulary word out of the crocodile's mouth and presents it to the other students. Zenia spent a  weekend building the crocodile, knowing how much the students would enjoy learning with it.
Using similar techniques, la gallinita lectura (the reading hen) is an activity where children make sentences from a scramble of words and images. Encouraging creativity, children are able to talk about words and explore new combinations to communicate. "The library is a place where students come to learn, to be happy, and to be welcomed," says Zenia. "It's important children learn to read to better their expression and communication abilities."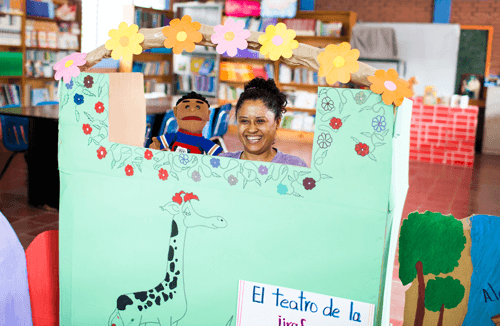 Zenia uses animal puppets to read phrases, stories, and sing in el teatro de la jirafa (the giraffe theatre). This engagement is dynamic and interactive, as the students listen to the stories, they learn about tone of voice, intonation, and how to speak fluidly. She currently hosts three reading clubs, each with 15 children. It's clear Zenia is inspired about both literacy and her students, "I have 300 students that I love as if they were my own. I don't have children, but my students are my children."
Share this story or make a contribution to support teacher training in Nicaragua.