12-4-14 | Sponsorship
This is My Story: "Raquel will always have someone"
"Raquel is too young to be wondering what her life will be like after her great-grandmother dies."
-Gemma, volunteer and Raquel's child sponsor
Raquel with her great-grandmother in Cusmapa
Raquel is a six year old Fabretto student in the rural community of Angel 2, a few miles away from the nearest town of Cusmapa. Her household is smaller than is typical for Nicaragua: she lives with just her great-grandmother, since her mother left to work in Managua when Raquel was 2 years old.
The day that I met Raquel, she was eager to show off what she had been learning in class recently, and told me that her favorite activities are drawing, painting and singing. I could tell how studious she was right away.
Raquel shows off her ABCs
I accompanied Raquel to her class, where her teacher, Margarita, encourages Raquel to play games to practice her counting and writing skills at her own pace (some of the basic tenents of Montessori Methology). I could tell how much fun she was having in class.
After class, I walked Raquel home. When we arrived, her great-grandmother, Angela, was collecting corn, and explained that she was worried that a wild animal was eating part of their humble crop. Raquel and Angela lead a very simple life, typical of families who rely on subsistence-farming in Northern Nicaragua: Angela's job consists of caring for the family coffee, corn and chickens.
Raquel's great-grandmother, Angela
While life may be simple, I realized that because of Raquel's situation at home, she is having to face some very tough questions too early in life. As I walked back to school with Raquel, she asked me the jarring question: "I know my grandma is old…will I be all alone when she dies?"
I decided right then and there to be Raquel's sponsor, so it wasn't a lie when I reassured her by saying: "You will always have someone."
As a child sponsor, I can motivate Raquel in her studies by sending her letters and gifts. In addition to what I give her, she will receive extra support from Fabretto staff, ensuring that she stays in school.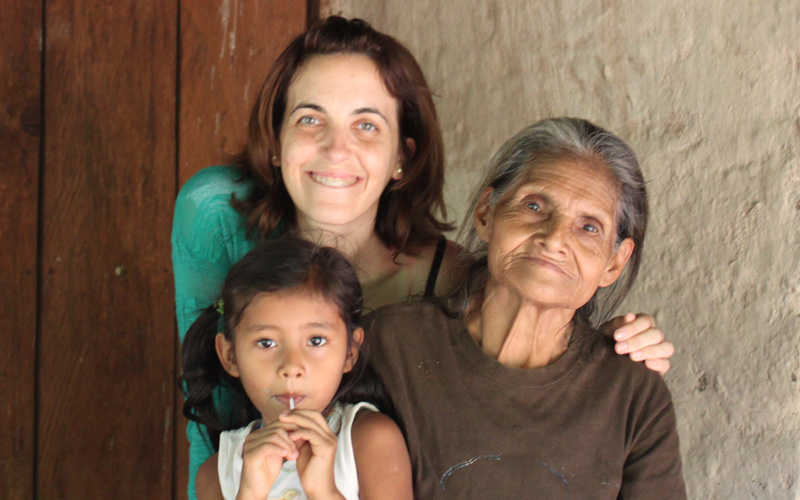 Gemma, Raquel, and Angela
You can help more children like Raquel. Become a child sponsor or make a donation today to join their story.
JOIN THEIR STORY