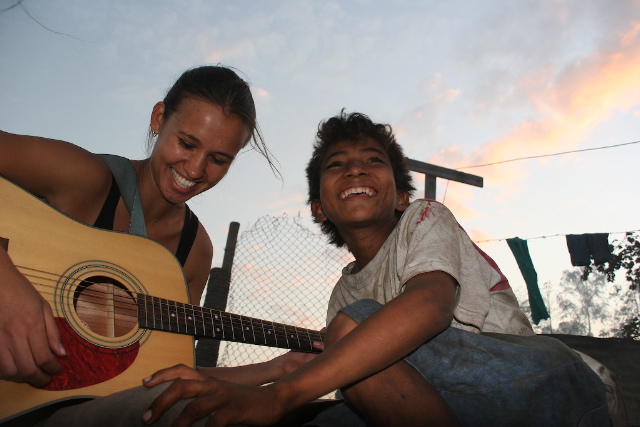 In 2008, Deanna Ford founded the Nica HOPE Project in the Managua municipal trash dump, La Chureca, as an education and vocational training program to enable children and youth to receive an education while providing alternative sources of income and skills training. For two years, Deanna lived and breathed Nica HOPE, nurturing the project's growth from an idea to a developed set of programs that supported hundreds of youth in La Chureca.
After Deanna left Nicaragua, the Nica HOPE Project became part of Fabretto's Education Center in Acahualinca, yet she remains deeply involved with the project and now serves on the Fabretto Children's Foundation Board of Directors. We had the pleasure to interview Deanna this week, and here's what she shared with us.
– What was your first experience in Acahualinca/La Chureca? Can you describe your first impression?
"The primary feeling that stays with me from my first visits to this community was that children should not live like this. Much has changed since I first stepped foot in that community in 2007, but the reality remains that families are fighting an uphill battle to make ends meet and secure a better future for their children. So little can go so far here to make a difference in the lives of these youth."
– How did you decide to create the Nica HOPE project?
"I decided to create Nica HOPE because I believed that if people knew, they would care. I had faith that if the extent of the need was understood by those with resources, then they would be willing to give. It's often hard to know how to give to make a difference in the lives of those who most need it, but provided the knowledge and the means to help, I believe that the goodness in people's hearts will lead them to contribute where it is so clearly needed."
– You have continued to support the project in many ways from the U.S.—donating your wedding gifts, becoming a Fabretto Board Member, and more. How did you decide to stay involved? What would you say to others who are interested in supporting from home?
"The decision to stay involved wasn't a choice for me. Knowing so many from this community, I couldn't turn away. Building ways to contribute form afar, and for others to do so, was the natural continuation of the work I started in Nicaragua…It's important to connect to the lives you are aiming to impact, to the real stories of students and families these programs are aiming to help."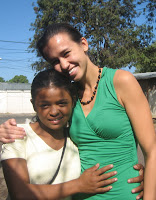 Deanna's work has touched so many lives in La Chureca and the surrounding community, Acahualinca. Here is what the people of the Nica HOPE Project say, in their words, about Deanna:
"She believed in me. It's impossible to describe Deanna in just one sentence. I am who I am because of her; Alejandra today would not exist without her believing in me and shaping me into the person that I am."
–Alejandra, community leader and single mother of 8
"Deanna is a person who's always concerned about the wellbeing of others. Her friendship and love has given us hope and opened doors for us. She just means so much to all of us."
-Tatiana, high school student and member of the jewelry cooperative. She has been with the Nica HOPE Project since primary school.
"Deanna has played a very important role in my life; She drew out my inner talent, believed in me, and taught me that loving others, not just yourself, is the best way to spread hope."
–Sofia, founding member of the jewelry cooperative and jewelry teacher
Deanna's experience in international development is extensive; she holds a Master's in Public Policy from Georgetown University, and her experience includes working at the International Monetary Fund, the World Bank, Agora Partnerships, and the Center for Research on Children in the U.S. Today, she is the Director of Evidence for Policy Design at Harvard University, where she continues to influence international development and policy.
This summer, donations to the Nica HOPE project will be matched by an anonymous donor. Make a donation in honor of Deanna Ford on the Nica HOPE Donation Page and change lives in Nicaragua.