6-23-14 | Success Story
When 3 Months turns into 5 Years: My Nica HOPE Story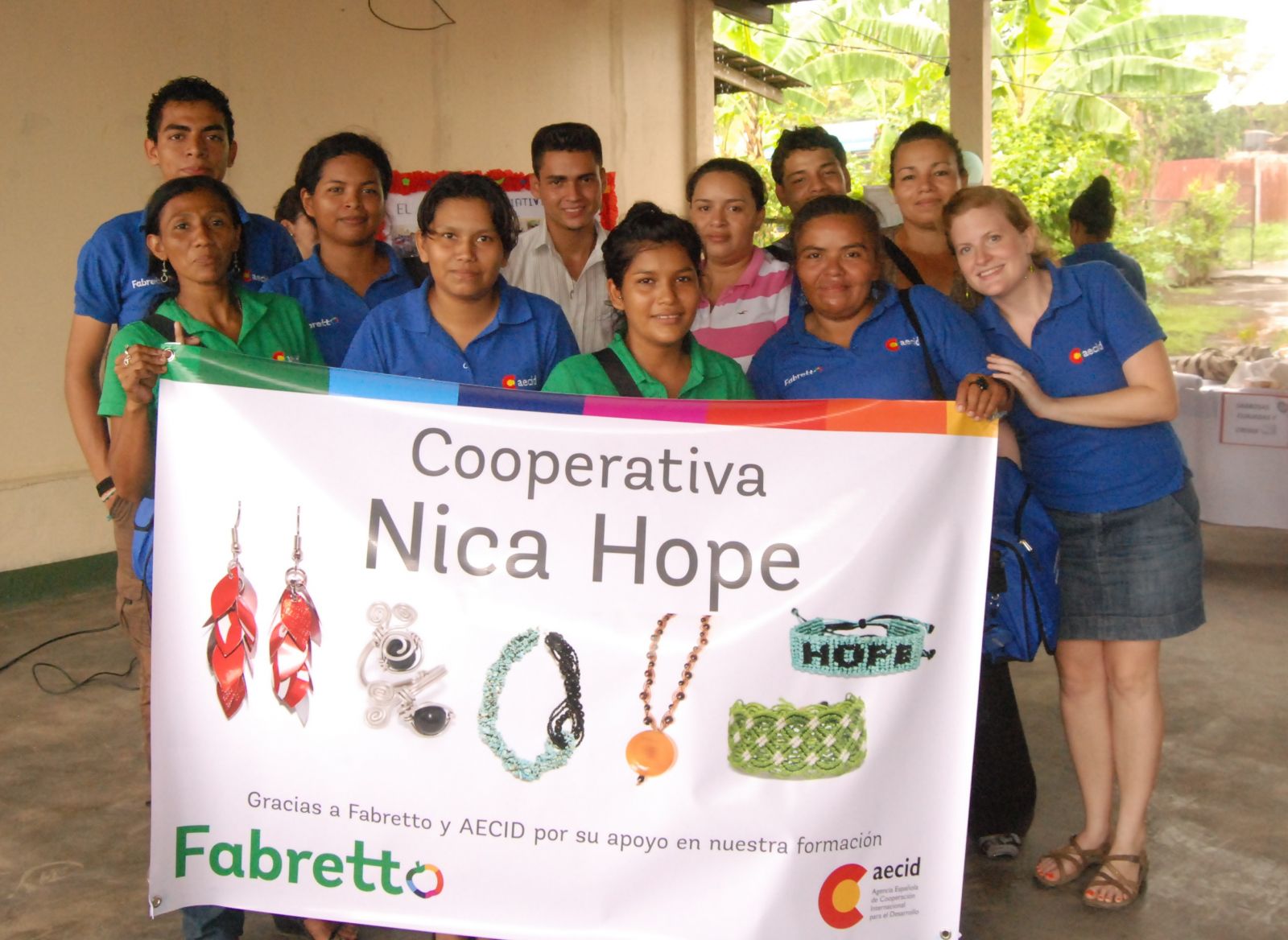 Mallory was Fabretto's Microenterprise Coordinator from 2009 to early 2014. She recently moved back to the United States after five years at Fabretto's center in Acahualinca.
In September of 2009, I traveled to Nicaragua for what was supposed to be a three month visit.  I began as a volunteer in Fabretto's Nica HOPE jewelry workshop, located near the trash dump, La Chureca, in Managua. At that time, about 90 young people attended jewelry-making classes at the center, earning an average of $8 a month.  Production was high, but the quality of the goods was hit or miss.  I quickly realized that there was a major lack of organization and got to work putting new systems into place.  Early on, the jewelry teachers jokingly referred to me as jefa (boss) but eagerly collaborated with me to get the program in shape.
When my three months were coming to an end, I knew that I wasn't finished here.  I told Deanna Ford, founder of the center and the Nica HOPE project, that I wanted to stay on, and eventually I was hired to help run the jewelry business.
2010 and 2011 were years of incredible growth for the jewelry program.   By improving operations, customer relations, and product quality, we increased annual sales to $64,000.  Artisans were earning an average of $25 per month and using it to buy food and clothes for their family, pay for school supplies, and even buy special "extra" items for themselves. By 2012, it was time to take the next step and form a cooperative.  33 socios (partners) and I participated in 24 hours of training and formed an independent business.  Before, the artisans only produced and sold jewelry, while administration and quality control fell mostly on me.  As members of the cooperative, the artisans became involved in everything, transitioning from employees to bona fide owners of their business.
Today, the cooperative is thriving.  Many artisans have emerged as leaders, and those not ready to make the commitment resigned.  It is a smaller group now, but the artisans earn nearly $50 a month, plus their share of the yearly profits, working just 6-8 hours per week.
As I reflect on the five years I spent in Nicaragua, I am incredibly proud of my role in the jewelry program's growth and thankful for all of the opportunities that Fabretto has given to me.  I often feel like I have received far more than I have given. I thank all of you who have visited the jewelry workshop, purchased the goods, hosted fundraisers, and spread the word about what we are doing here.  Every single purchase makes a direct difference in the life of the artisan who made it, something I have had the privilege of seeing every day.
This summer, donations to the Nica HOPE Project will be matched up to $15,000! Donate here and double your impact. Make sure to check out the Nica HOPE Cooperative's Summer Catalog as well.