6-6-14 | Volunteers
Raising Awareness Through Basketball
Last summer, Juan Mendoza volunteered in Fabretto through our partnership with Accenture in Spain. This past Saturday, he organized a basketball fundraiser for Fabretto with his friends and family members at the San Jose del Parque School in Madrid. Each team donated 1 euro per point scored against them during the game. Together, they raised over 500 Euros and spread awareness about Fabretto's mission in his community.
Fundraising helps more children in Nicaragua access quality education and nutrition programs. You can organize your own fundraiser based on your community's interests! Visit our Take Action page for more information and ideas.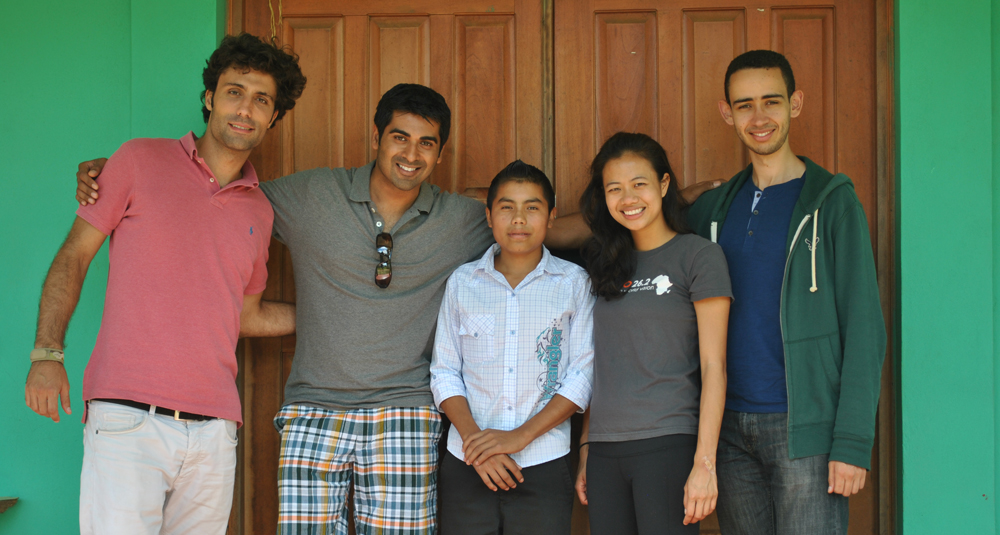 Juan with a Fabretto beneficiary and three volunteers from Kellogg Business School
Juan shared his story with us:
"Before telling you about my experience, I'd like to thank the Accenture Foundation and Fabretto for giving me the opportunity to do one of the things I'd always wanted to do. A few months ago, I had one of the best experiences of my life. For those who haven't done something similar, I can tell you that it's enriching from the first moment, and you'll feel the impact your whole life. When my friends ask me how my volunteering went, I say, "I only regret one thing—not volunteering sooner!"
After I was selected by the Accenture Foundation to participate in Volunteering on Vacation in 2013, I was told that I'd be working with Fabretto in Nicaragua. I mainly worked to create communications, researching and developing content for the website and social media. I visited the community Cusmapa for four days and I was in direct contact with Fabretto's staff and beneficiaries: students, teachers, tutors, parents, and directors. My visit coincided with a group of volunteers from Kellogg Business School in Chicago, and we supported each other during the trip and project, and we also traveled together to Ometepe Island one weekend.
From my arrival in Managua, my 15-day trip was intense and constantly an adventure. This was my first visit to a Central American country and as soons as I left the airport on the way to volunteer house, I saw that this was a completely different country than I'd ever seen. I was greatly impacted by the way that many people struggle just to obtain their daily meals, something that we take for granted.
My visit to Cusmapa was unforgettable. Cusmapa, located in the northern mountains of Nicaragua, is covered with forest and rocky dirt roads. One of the things I noticed most was how happy people were despite having so little. They worked in agriculture, raising livestock, or growing coffee on tiny farms. I spoke with children in the schools, from preschool to the few who have the opportunity to prepare for university studies. I interviewed beneficiaries and wrote success stories: students who reached the university, teachers and students working in agricultural projects to benefit their communities, volunteers, etc. I also helped distribute food to schools through the nutrition program.
I hope one day to repeat my experience; I feel that I've learned to value the things that matter most in life. I'll always be grateful for being able to participate. It's an alternative way to spend your vacation and I recommend it for everyone. Our free time can have a great impact on the lives of people in need."
Thank you, Juan!