10-11-13 | Our Programs
Fabretto: Investing in the Future by Educating Girls
The facts are harsh but true: around the world, in 2013, girls still lack access to the education they deserve.
– 65 million girls are out of school
– 1 in 5 girls in developing countries who enroll in primary school never finish.
– Just 30% of the world's girls enroll in secondary school.
– 250 million adolescent girls are currently living in poverty.
(USAID 2012)
But there's a flip side – with just a small investment, girls can become catalysts for change in their communities. Statistics show that just one additional year of education increases a girl's future earnings by an average of ten percent, that educating girls directly correlates with increases in female labor force participation, and that educated women are more likely to become community leaders (World Bank). This means that in Nicaragua, as in many countries around the world, educating girls is the key not only to their future success, but to the development of the country as a whole.
Fabretto is part of the global movement to educate girls, celebrated today on the UN International Day of the Girl. Currently,  52% of Fabretto's over 12,000 student beneficiaries are girls. Fabretto's programs directly respond to the statistics highlighted above, beginning with keeping girls in the crucial first years of school and supporting them through youth, adolescence, and early adulthood.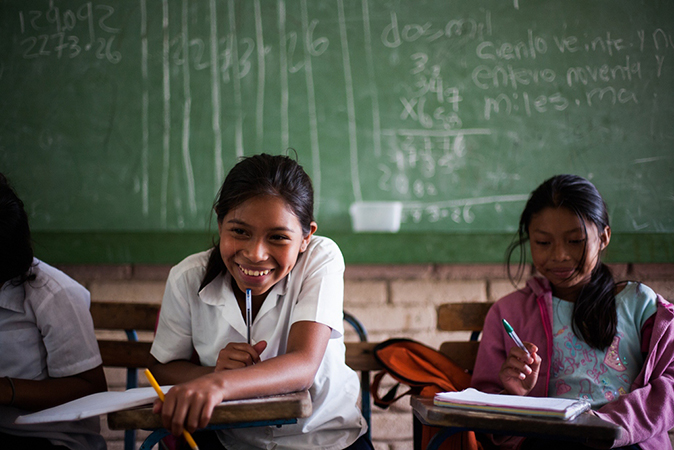 During the vulnerable years of adolescence, Fabretto's secondary education programs empower girls to prepare for the future through job readiness programs and classes in entrepreneurship. Take Anielka and Sujey for example, two fourth year students in Fabretto's rural secondary education program in the rural community El Carrizo. As part of their high school classes, Anielka and Sujey conducted a community survey and wrote a business plan to establish a small bakery. With the support of their teacher, that plan became a reality, and today, they are the proud owners of a small business, baking and selling rosquillas, traditional Nicaraguan biscuits, each week.
As Anielka and Sujey's story shows, the benefits of student businesses are numerous; not only do they learn valuable management skills, but their families also receive extra income, which often fills a crucial economic need that allows youth to continue attending school. In addition, Fabretto exposes girls to opportunities of which they may not have been aware through internships, job readiness programs, and classes that develop marketable skills, such as graphic design and jewelry making.
With a little support, girls and young women are becoming leaders and driving community development in their communities, and you can be part of the change. Support girls by donating to Fabretto's education programs today.