10-3-13 | Success Story
Fabretto Teacher Training: The Ripple Effect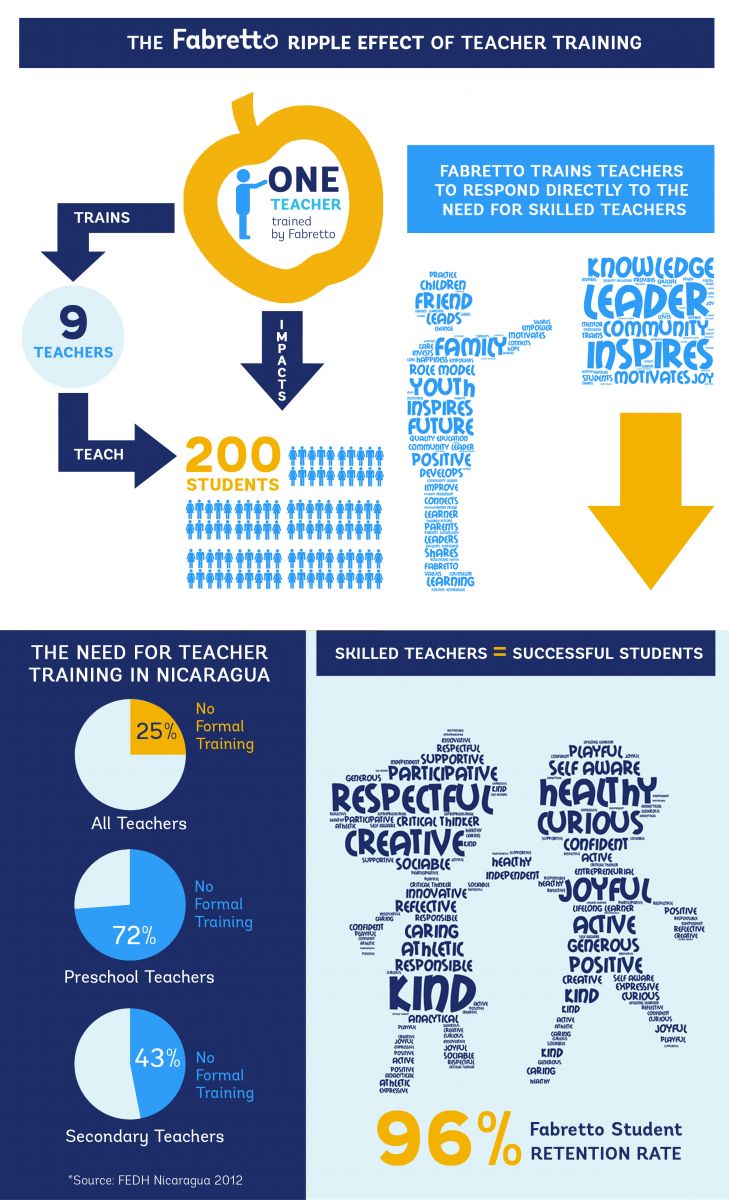 Did you know? In Nicaragua, over one quarter of teachers are not formally trained, with the majority of untrained teachers concentrated in rural communities (UNDP). In addition, the Nicaraguan National Education Forum (FEDH) has identified a shortage of 10,000 teachers this year throughout the country, and that means large class sizes and inexperienced teachers at the helm in too many classrooms.
Fabretto's teacher training programs respond directly to the need for skilled teachers in underserved areas. By empowering teachers through comprehensive training, Fabretto multiplies its impact and brings quality education to more children and youth in Nicaragua.
Fabretto's teacher training focuses on spreading the knowledge. When a teacher is trained by Fabretto, he or she is prepared to share what they learn with other teachers at their schools. In this way, teachers trigger a ripple effect of knowledge in their communities.
Fabretto places a special focus on training teachers who work with vulnerable groups of students. Limited access to high schools and economic constraints put rural students at a high risk for dropping out after 6th grade. The best way to keep kids in school? An inspiring teacher. That's why Fabretto trains dynamic tutors, who bring quality secondary education to rural communities to engage and empower youth. Teachers are also coached on parent outreach to build awareness about the importance of education and school attendance.
Research has shown that quality early childhood education leads to better completion rates, smooth transitions to primary school, and reduced poverty (UNESCO 2007). This year, Fabretto has trained eighty-six preschool teachers in Montessori methodology to support over 1,500 children age 2-5. Using hands-on, interactive lessons, Montessori-trained teachers give children a strong start by stimulating early learning and development.
Fabretto teachers are dedicated to their students and their own continual improvement as educators, mentors, and community members. Continue the ripple effect in Nicaragua: DONATE to support teacher training today!